Bitcoin, Ether and Ravencoin. As cryptocurrency sweeps the nation, MSU senior Ethan Hopp wanted to create something that makes the process a little easier to navigate. And with the help of the Ian Gray Scholarship, Hopp's creation is picking up pace.
Hopp is creating a Bitcoin rig that allows users to go to class, game and surf the web, all while the software is earning cryptocurrency. Hopp was inspired after he wanted a better case to hold more equipment and realized the prices were too high.
"All of the other options I saw were either cheap and tossed together or cases that were $3,000," Hopp explained. "Instead, I got together with some of my buddies who are mechanical engineers, and we designed this computer case that can hold multiple graphic cards and power supplies."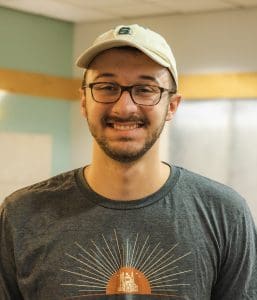 Cryptocurrency is a digital currency secured by cryptography, which makes it nearly impossible to counterfeit or double spend. Some popular cryptocurrencies include Dogecoin, Bitcoin and Tether. Combined, those three hold an estimated $947.6 billion in market value.
Mining for cryptocurrency is similar to mining for gold. Complex computers must compete with other users to solve a puzzle to validate their transactions and earn cryptocurrency.
There were some options out there for Hopp to use, but none of them fit his direct needs. He decided to tackle the problem head on and create his own solution.
Ian Gray, for whom the scholarship was named, spearheaded the creation of the MSU Innovation Center and served as vice president for Research and Graduate Studies at MSU until his retirement in 2012. The scholarship is awarded to an MSU student each year who exhibits qualities of an entrepreneur.
To Hopp, the meaning of being an entrepreneur is clear: someone who takes risks.
"Someone who puts themselves out there and networks with people while also putting in the work behind the scenes," Hopp added. "An entrepreneur isn't afraid to reach out to someone who may know more than you."
The recipient receives $2,000 per semester to help cover tuition or student expenses. With some of his school expenses now covered by the scholarship, Hopp has decided to use that flexibility to help his process become more independent and further his creation.
"I've been thinking about building a CNC router so we can actually use and create these cases ourselves," Hopp said. "So instead of paying someone to do it for $1,000, we can actually just buy the material and do it ourselves."
The abundance of resources offered by the MSU Innovation Center and MSU's Burgess Institute for Entrepreneurship and Innovation has led to mentorship relationships, new skills learned in courses and now scholarship funding.
The next step for Hopp is to finish a second prototype. Once he is happy with the final product, he would like to tie into some big tech conferences.
Hopp and his team also utilized resources from different facets of the university as well. He partnered with the web and logo designers offered through the Burgess Institute for Entrepreneurship and Innovation.
"The fact that we can get money through the university is really great," Hopp said. "It costs $1,000 just to become incorporated and another $1,000 to get a prototype done. We would not have been able to do that without support from this scholarship."