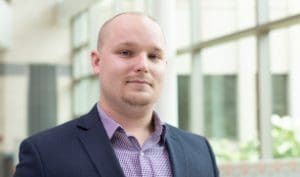 Nate Yenor is finding success after graduation as a technology commercialization associate with Michigan Technological University.
Yenor worked for the MSU Innovation Center as a commercialization intern from November 2016 until December 2017, when he graduated with a B.S. in Material Science and Engineering from MSU. He remained with the Innovation Center as a Technology Transfer fellow until November 2018.
"The majority of what I know about evaluating technologies for commercial and IP potential I learned from the Innovation Center," Yenor said. "I use these skills every time there's a new technology disclosure, and I'm continuing to build on them as I continue both formal and informal education."
His time with the Innovation Center prepared him for his current position with Michigan Tech. He works to screen and evaluate new technologies for licensing to established companies. He also works with inventors who seek to build their own companies and guides them through the process.
Yenor credits his time at the MSU Innovation Center as the reason he is where he is today. It is where he discovered technology transfer and found his chosen career path. He wanted to be working on the forefront of technology development and learn various sciences, and working in technology transfer has allowed him to do this.
"Technology Transfer can be a very difficult field to break into," Yenor added. "The experience that I got at MSU IC made it possible for me to do so in an expedited manner that I don't think I could have achieved another way."