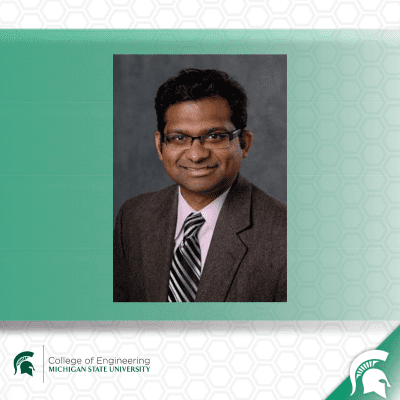 An MSU College of Engineering computer science professor has received national exposure for his research on Artificial Intelligence (AI).
Arun Ross, the college's Martin J. Vanderploeg Endowed Professor, recently conducted an interview with CBS to offer his thoughts on a new program called Ai-Spy. 
AI-Spy is an AI-detecting program that developers say "makes it easy to determine if audio is human or AI-generated," according to its website.
Ross' interview has aired this week on several CBS affiliate broadcasts across the country.
Ross emphasized in the interview that tools currently used to detect AI-related content will most likely need to improve and evolve quickly to match the latest technology.
"If we can detect something synthetic today, we may not be able to use the same method tomorrow," Ross said.
Ross' interview can be found here: https://tinyurl.com/bdzaynxw. He is considered an internationally recognized expert in biometrics, computer vision, and machine learning.
Ross is a professor in the College of Engineering's Department of Computer Science and Engineering (CSE) and earned his M.S. and Ph.D. degrees in CSE at MSU.
For more information on Ross, visit his profile page.
This article originally came from MSU College of Engineering.
About the MSU Innovation Center: 
The MSU Innovation Center is dedicated to fostering innovation, research commercialization, and entrepreneurial activities from the research and discovery happening across our campus every day. We act as the primary interface for researchers aiming to see their research applied to solving real-world problems and making the world a better place to live. We aim to empower faculty, researchers, and students within our community of scholars by providing them with the knowledge, skills, and opportunities to bring their discoveries to the forefront. Through strategic collaborations with the private sector, we aim to amplify the impact of faculty research and drive economic growth while positively impacting society. We foster mutually beneficial, long-term relationships with the private sector through corporate-sponsored research collaborations, technology licensing discussions, and support for faculty entrepreneurs to support the establishment of startup companies.   
Is your company interested in sponsoring further research on campus? Click Here.