Coming home was never part of his plan.
Yet here is Detroit native Charles (aka "Chaz") Hong, after earning multiple degrees from MIT and Yale and teaching medicine at Harvard, Vanderbilt, and the University of Maryland, back in Michigan as chair of the College of Human Medicine's Department of Medicine.
"I never imagined I'd be coming back to Michigan," said Hong, MD, PhD. "I'm not coming here for a homecoming. I came here because of Michigan State. It has an extraordinarily deep and broad base of fundamental research with equity woven into the fabric of everything we do. The opportunity to really make an impact is what attracted me here."
Hong assumed the job in September after what Dean Aron Sousa described as "a national search yielding a remarkably strong pool."
"One of the most impressive parts of Hong's experience is his dedicated work as a mentor of students, residents, fellows, post-docs, and faculty," Sousa wrote.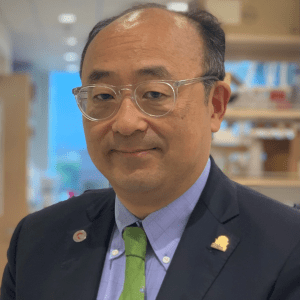 After growing up in the Detroit area, Hong earned his bachelor's degree at MIT followed by an MD and PhD at Yale School of Medicine and a cardiology fellowship at Massachusetts General Hospital. He completed a research fellowship in chemical biology at Harvard Medical School, where he also taught before joining the faculty at the Vanderbilt University School of Medicine. Immediately before joining Michigan State, he was Melvin Sharoky Professor and co-chief of cardiovascular medicine at the University of Maryland School of Medicine.
Hong's research combines chemical biology, cell and molecular biology, stem cell biology, genetics, and cardiology. His work has led to a possible treatment for glioblastoma, an aggressive form of brain cancer.
Hong described his vision for the Department of Medicine as similar to the "Medici Effect," the idea that creative sparks and disruptive innovations occur when talented people of diverse backgrounds come together. In addition to chairing the department, he will mentor clinician scientists through MSU's partnership with Henry Ford Health.
"The opportunity exists for me to make it (the Department of Medicine) into a translational powerhouse in conjunction with our clinical partners," quickly bringing new treatments from the lab to patients, Hong said. "We want to make the Department of Medicine into a biomedical equivalent of Renaissance Florence. We want to be at the heart of all these intersections between scientists, clinicians and entrepreneurs to make Michigan State a dynamic innovator of academic medicine.
"It's a big task," he said, but added: "I'm totally excited about this."
To read the original article from the College of Human Medicine, click Here.
About the MSU Innovation Center: 
The MSU Innovation Center is dedicated to fostering innovation, research commercialization, and entrepreneurial activities from the research and discovery happening across our campus every day. We act as the primary interface for researchers aiming to see their research applied to solving real-world problems and making the world a better place to live. We aim to empower faculty, researchers, and students within our community of scholars by providing them with the knowledge, skills, and opportunities to bring their discoveries to the forefront. Through strategic collaborations with the private sector, we aim to amplify the impact of faculty research and drive economic growth while positively impacting society. We foster mutually beneficial, long-term relationships with the private sector through corporate-sponsored research collaborations, technology licensing discussions, and support for faculty entrepreneurs to support the establishment of startup companies.   
Is your organization interested in sponsoring further research done by MSU's Department of Medicine? Click Here.