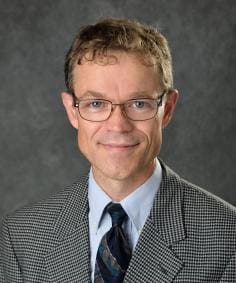 Dr. Daniel Morris, Associate Professor in the College of Engineering, is giving mobility platforms the ability to see better than humans.
Autonomous vehicles need to have sensing capabilities on par with or better than humans in order to safely operate on roadways.
"Sensing for mobility is an intriguing topic for me," Morris said. "Humans accomplish it effortlessly, leading one to believe it is a simple task. And yet it turns out to be far harder than it looks."
Morris's research focuses on combining data from heterogeneous sensors – such as video, Lidar and radar – to obtain more accurate and reliable observations of a vehicle's environment.
While video can be high resolution but not 3D, Lidar is 3D but not high resolution. Morris is looking to combine these technologies to obtain a high-resolution, 3D scan of the environment the autonomous vehicle inhabits.
This combining of sensor data can be applied to help autonomous vehicles discriminate between hazards.
"Human capabilities are unlikely to change and so we need our cars to see for themselves," Morris said. "And my prediction is that computer vision will enable vehicles to see better than we can."
Research like Morris's in mobility is happening all across Michigan State University. MSU researchers from many departments are tackling mobility from unique angles.
"The future of mobility is complex and multidisciplinary, with many interacting components including advances in technology, changes in laws, security concerns, and social acceptance," Morris said.
For more information about Morris's research, visit the 3D Vision Lab's website.