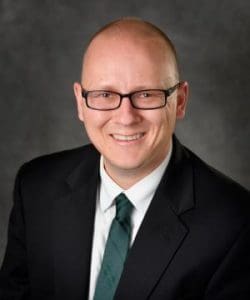 Dr. Peter Savolainen, MSU Foundation Professor in the Department of Civil and Environmental Engineering, is utilizing his skills and capitalizing on the advantages that a large institution like MSU has to offer for his efforts in mobility research.
Savolainen's research examines the fundamental nature of user behavior, particularly how the safety and operations of transportation systems are influenced by behavior in consideration of roadway characteristics.
"Much of the research we conduct helps to inform the day-to-day activities associated with the field of transportation engineering," Savolainen said. "Our current work is looking at driver distraction and how various types of distractions affect driving behavior, and, in turn, how these impacts may also influence safety and efficiency."
Savolainen emphasized the near immediate changes in transportation engineering practices that stemmed from his research and how his crash prediction models and evaluation work are utilized by the Michigan Department of Transportation.
"Mobility research is exciting because we have the opportunity to see the impacts of our research in the real-world almost immediately from the time a study is completed," Savolainen said. "The work that we are doing helps to make everyone's travel both safer and more efficient."
Despite the large success their department has made on mobility research, there are still unresolved questions on autonomous vehicles (AVs) that must be addressed. Technical issues, societal issues, as well as social, political and legal concerns are all areas that may affect the widespread adoption of AVs.
"With mobility research, things are always changing," Savolainen said. "This is particularly true when we think about things like the introduction of connected and autonomous vehicles."
Although there are still challenges ahead, MSU stands as a leader in the field of mobility research due largely in part to its diverse faculty that allows for collaborative research across various engineering and social science fields.