This is the story of how a fledgling biotech company with its origins in the Michigan State University (MSU) Department of Chemistry leveraged nearly every facet of the MSU Innovation Center ecosystem to move from the barest beginnings of drug discovery to a venture capital-funded startup. Business Connect, MSU Technologies, Spartan Innovations, and Red Cedar Ventures have all had a role to play in the pursuit of this promising new opportunity.
Foundations in Science
The launch story of Portera Therapeutics begins in a lab at MSU with the drug discovery work of Professor of Chemistry Jetze Tepe, Ph.D. Tepe's work seeks to identify innovative therapeutics for treating cancer and neurogenerative diseases. Specifically, he and his graduate students have been studying how to prevent the accumulation of toxic, dysregulated, and disordered proteins with small molecules in cells. The team developed a novel approach to degrade disordered proteins that build up in cells that can cause cancer or create plaque, for example, in the brains of Alzheimer's or Parkinson's patients.
The idea is still in the very early stages of research. "We discovered a completely new approach that prevents previously undruggable proteins from accumulating and driving disease progression with the small activator molecules," explained Tepe.
The MSU Innovation Center assisted in moving Prof. Tepe's initial research forward, with $34,949 in funding, which helped generate data with the assistance of MSU's Drug Discovery Center. "The Drug Discovery Center was absolutely vital to getting the data we needed to secure outside grants to continue our research," said Tepe. That data was crucial in securing three grants from the National Institute of Health (NIH), totaling an additional $2.4 million.
Interest from an investor
MSU Technologies (MSUT) would become key in forming a company around the professor's technology. MSUT collaborates with inventors like Prof. Tepe to analyze and make decisions about the best ways to transfer technology so that its benefits reach the public. "We are the stewards of technology that is developed during the course of research at MSU," said MSUT Executive Director Anne Di Sante.
Di Sante agreed that a start-up company was the way to go. "Jetze's invention was too early-stage for an established company to pick up, but as a startup, it could become something that could develop and grow," she said.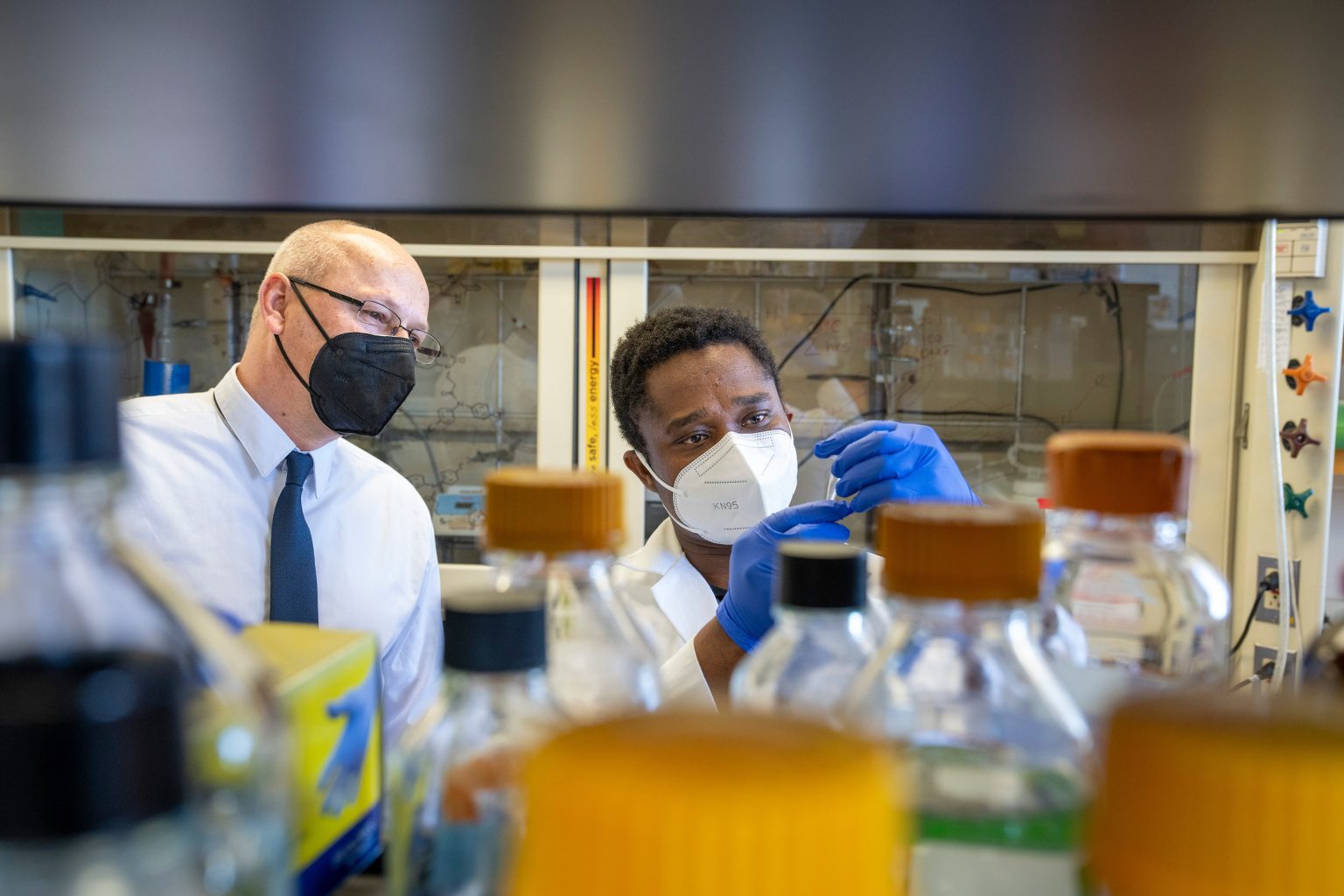 A competition to win seed funding
AbbVie Ventures focuses its investments in early-stage opportunities in immunology, oncology, and neuroscience. In approaching Prof. Tepe about funding a startup, AbbVie Ventures suggested entering their newly established AbbVie Innovation Midwest (AIM) Award competition. The award is an incubator program designed to support emerging scientists, researchers, and biotech entrepreneurs working on novel science with potential for transformational therapies.
With its goal to stimulate the biotech ecosystem in the Midwest, the AIM Award is an opportunity to receive seed funding from AbbVie Ventures. It is awarded to up to two early-stage biotech companies annually.
To form a new business and gain the best shot at that funding, MSUT sought to leverage other partners in MSU's Innovation Ecosystem. The MSU Research Foundation often partners with the Innovation Center to encourage innovation and facilitate economic development through commercialization, new venture creation, and innovation partnerships.
To that end, a cross-functional team that included MSUT, Spartan Innovations (SI), and Red Cedar Ventures (RCV) set about the work with Prof. Tepe to create Portera Therapeutics.
A winning business formation
RCV makes early-stage investments in technology startups commercializing intellectual property created at MSU. However, RCV does more than provide funding. "We're a turnkey solution to innovation at MSU," said Executive Director Jeff Wesley. "We offer consulting, mentorship, and strategy as well for business formation."
RCV Venture Associate Matt Okenoski and SI's Director of Venture Creation Frank Urban were highly involved not only in Portera's formation but also in prepping for the AIM Award competition.
"We're privileged with where we sit in proximity to the university and with the tools that we have available to us through Red Cedar Ventures and Spartan Innovations," said Okenoski. "These advantages allow us to nurture some of the most promising ideas coming out of the university."
He added, "There's a lot of preparation involved in presenting to a world-class company like AbbVie that's beyond the science."
For example, Urban, with his background in life sciences, worked with Prof. Tepe on product positioning and early product development milestones that a therapeutic startup company must complete. "That was key in laying out the path forward from a business and development perspective," Urban said.
In October 2021, Prof. Tepe delivered Portera's presentation for review at the AIM Award competition in Chicago. "Afterward, Jetze didn't think we'd won," said Di Sante. "And I told him, it's ok. We'll still move forward with Portera. But then, they announced we'd won," she said. "We were so excited."
The win meant seed funding for Portera Therapeutics, an investment that will be crucial to advancing the company. "The pre-seed investment will be used to push the technology forward to the point where we'll be able to attract much greater funding," Tepe said.
"Ultimately, we hope that the technology can address some human health issues," said Tepe. "That's been our goal, and now, we have a path to that goal."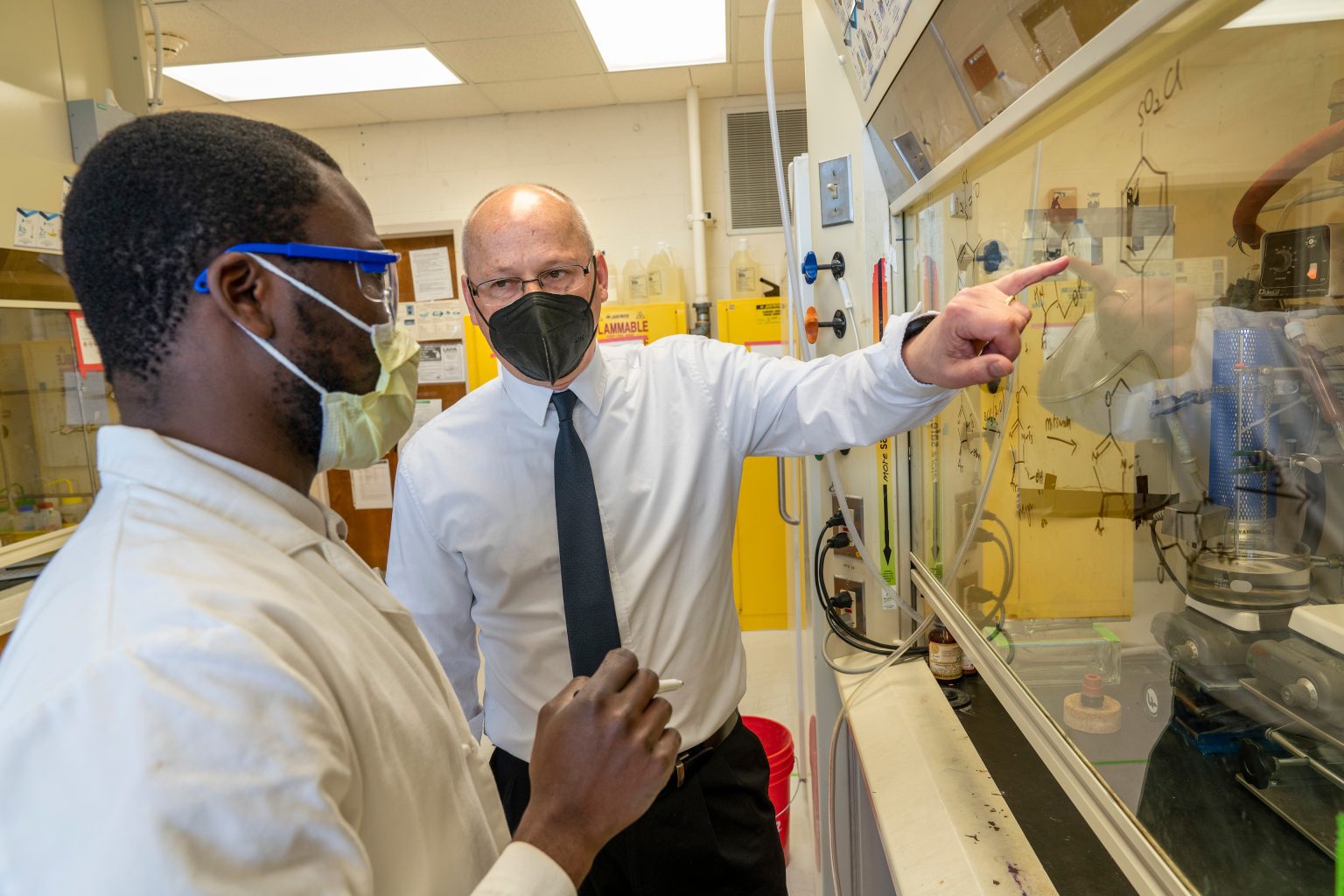 Next steps to sealing the deal
With the promise of venture capital at hand, the new company, with support from SI, began recruiting others to come on board. With Tepe as Portera's founder and board chair, biotech consultant Jeff Brinza was hired as executive chair of the board. He is the point person on the business side. He said, "I came on board to get the company up and running; to manage everything administrative in nature so Jetze can focus on the science."
"It's very unusual for a professor to be approached by somebody on the outside to start up a company around something he has discovered," Brinza went on. "So, it's amazing for Jetze to have this opportunity. We are confident in the science, and we think we can really make something happen here."
While investment conversations were happening, MSUT's Di Sante worked on the option agreement to transfer Tepe's technology to Portera. "An option agreement officially puts the technology into the hands of the company so they can evaluate it," she said.
"As a startup, portera doesn't have its own laboratory or employees. Since jetze's team developed the chemistry, they are best suited to do the early experiments, and msu offers the exploratory chemistry capability that enables the research. So, we put a contract in place between The university and portera to use the company's investment funds to contract back into the university to sponsor the research being done in jetze's lab."

– Charles Hasemann, Associate Vice President for Innovation & Economic Development

RCV also invested in Portera. "We always look forward to supporting innovation like this," said Wesley. "It's exciting to see the momentum coming out of the university and being able to back it."

At the same time, MSU Business Connect negotiated a sponsored research agreement with Portera. Business Connect coordinates contractual negotiations and other business agreements between the university and partner organizations.

Associate VP for Innovation & Economic Development Charles Hasemann explained, "As a startup, Portera doesn't have its own laboratory or employees. Since Jetze's team developed the chemistry, they are best suited to do the early experiments, and MSU offers the exploratory chemistry capability that enables the research. So, we put a contract in place between the university and Portera to use the company's investment funds to contract back into the university to sponsor the research being done in Jetze's lab."

The sponsored research agreement enables Portera to continue doing the work it was formed to do.

"This is a great story of how all parts of the Innovation Center came together to support the right commercial outcome to get this technology into use out in the real world," Hasemann continued. "Early on, the drug discovery process enabled Jetze to move forward by providing data. Then, MSU Technologies assisted with the AIM Award competition and negotiated the option agreement. Spartan Innovations further helped with the company formation. Portera won the competition and got funding, then Red Cedar Ventures co-invested to further fund them and to help seal the deal. Finally, Business Connect put in place a sponsored research contract to make it all work.

"None of this happens without all of those parts," he said. Yet the outcome is bigger than what any part of the Innovation Center does separately.

Di Sante put it even more succinctly, "All the agreements are signed, research is continuing, there's an option in place, there is additional internal investment, and we have a startup that is unique having venture capital funding right out of the gate."

"All of which is pretty great," she said.