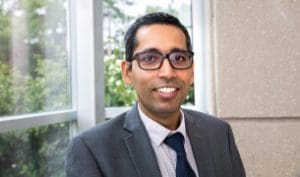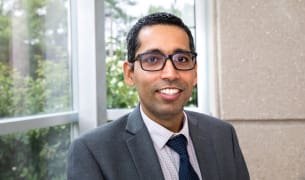 Anupam Jhingran has joined the MSU Innovation Center as the new Technology Manager of Life Sciences.
Jhingran is part of a team of tech managers at MSU Technologies that includes Brian Copple, Ray DeVito, Tom Herlache and Brad Shaw.
Jhingran oversees the technology transfer from inventions in the field of life sciences from their initial disclosure through IP prosecution, marketing and execution of license agreements. He works with the College of Veterinary Medicine, Osteopathic Medicine, and the Grand Rapids Medical School.
"I enjoy learning about science," Jhingran said. "I am fortunate that every day I get to read about new science and new fields."
Technology managers assist with the commercialization process of an invention from when it is disclosed to the entirety of the licensing process. The tech managers oversee the screening process of these inventions and evaluate them for commercialization opportunities.
If the technology receives a favorable screening, the technology manager will file patent applications and move the invention to the assessment stage of the technology transfer process.
Anne Di Sante, associate director of MSU Technologies, is excited to welcome Jhingran to the Innovation Center.
"I am confident MSU's inventors will enjoy working with Anupam, who brings enthusiasm and new ideas to MSUT," Di Sante said.
Jhingran recently attended the Animal Health Partnering Forum to meet with industry professionals looking for animal health technologies.
"I am excited to work in a place where I can grow as a professional and contribute to the ecosystem," Jhingran added.
Prior to MSU, Jhingran worked as a Licensing Specialist at the Office of Technology Licensing and Industry Relations at Stony Brook University for three years.