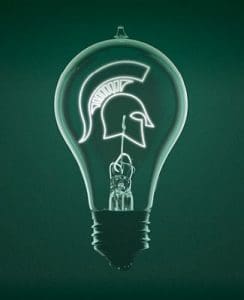 MSU faculty's ability to keep coming up with groundbreaking ideas and take them to the marketplace has greatly helped improve the quality of life in communities near and far and has helped Michigan and the United States compete in a global environment.
In 1929, MSU Professor G. Malcolm Trout did not like the taste of milk. Back in 1864, Louis Pasteur had discovered that heating milk—or wine or beer—killed most of the bacteria in the liquid, thus creating the process of pasteurization. Then, in 1899, Auguste Gaulin patented a "homogenizing machine" that emulsified milk and gave it its rich, creamy, white color.
Until Trout, however, no one thought to link the two processes. His research at MSU led to the discovery that homogenized milk needed to be pasteurized first. Thanks to Trout, milk was safe to drink, and it looked appetizing; plus, it tasted good. He wrote "Homogenized Milk," which became a respected book in the dairy industry. To this day, Trout is credited with helping to make homogenized milk feasible.
Trout was not the first innovator on campus, and he certainly was not the last. Famed botanist William J. Beal invented hybrid corn in 1872 while at MSU. In the early 1970s, Dr. Barnett Rosenberg and his team on campus invented Cisplatin and Carboplatin, two of the world's leading anti-cancer drugs. Those are only a few examples of discoveries in East Lansing. In fact, MSU faculty members are credited with over 2,700 inventions.
The university takes its propensity for invention and innovation seriously and proudly, showcasing the vital work its faculty is doing. Beginning in 2011, the MSU Innovation Center began hosting an annual Innovation Celebration. The event, a networking reception that showcases innovative technologies developed in campus labs and beyond, honors the university's greatest innovators and innovations. "To create something new, it requires an incredible amount of labor, perseverance and creativity. The innovation, invention and research created at MSU are something that needs to be shared with the world," Charles Hasemann, assistant vice president for Innovation and Economic Development at MSU and MSU Innovation Center executive director, said at the 2015 Innovation Center Celebration. "The process of bringing technologies to market is a long road, filled with trial and error, but we provide the necessary resources and support to make this possible for both MSU faculty and students."
The 2020 Innovation Celebration was not quite the same as previous iterations due to the COVID-19 pandemic. Still, the MSU Innovation Center still honored the "Innovation of the Year" with a socially-distanced award ceremony outside Beaumont Tower in October. The team looks forward to the next decade of innovation.
See below for more, where you will find a few of MSU's greatest innovations honored at previous innovation celebrations. They are some of MSU's greatest gifts to the world.

This article has been reposted from MSU Alumni.