MSU Business-CONNECT welcomes Nick Miller to the role of Executive Director. Miller brings almost 15 years of corporate relations experience to the Business-CONNECT team.
"I am very excited to bring Nick into the Innovation Center leadership team. Nick's time at the Business Engagement Center at the University of Michigan has provided him with all the tools and experiences that we could hope for in a leader for our corporate research relationships team. MSU and UofM have worked closely together over the years alongside the MEDC, developing the statewide Michigan Corporate Relations Network," said Charles Hasemann, Associate V.P. for Innovation & Economic Development at Michigan State University. Hasemann continued, "I came to know Nick in that context and was thrilled when he presented as a candidate in our search. I expect Nick will help us build on our successes, bringing a fresh perspective on expanding our existing strategic relationships and strategies for partnering across MSU to select and build new ones.
Miller joined the University of Michigan's (UofM) Business Engagement Center in a marketing role in 2008.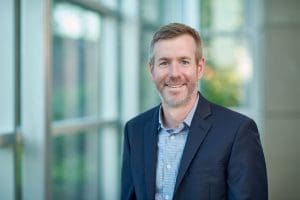 At the time, the UofM Business Engagement Center was a fledgling organization built around a model of holistic engagement with the University's corporate partners. "Michigan's model was unique among corporate engagement offices, but because it was an experiment, I had to work with the team to develop a playbook from scratch," Miller explained.
During his tenure at UofM, Miller catalyzed corporate engagement efforts across various sectors, including materials science, automotive, insurance, health science, aerospace, and defense sectors. "Part of the beauty of working at a large research institution is the ability to leverage its breadth. Once you get to know where the University's strengths lie and how those match the needs of industrial partners, the relationship can blossom in a number of directions," said Miller.
Miller completed his undergraduate work at the University of Michigan, where he received his B.A. in Communications. He received his MBA from Michigan State University's (MSU) Broad College of Business.
Miller cited MSU's impressive $710mm in total research awards and its leadership's visible interest in growing long-term corporate relationships as reasons why he was attracted to the position with MSU Business-CONNECT. Miller also expressed support for the MSU Innovation Center's mission to translate faculty research and innovations into solutions to real-world issues, "When I think about some of the biggest challenges that industry- and society more broadly- is facing, from sustainability and circular economy challenges to food security and supply chain challenges, these match up perfectly with the kind of expertise that MSU has. Coupled with the fact that there is a clear interest from faculty and other campus partners in building connections with industry, this creates an environment that's very fertile for growth, and I'm excited to join this effort."