Brian Wright recently joined the MSU Technologies (MSUT) team as the new Associate Director, reporting to Anne Di Sante, Executive Director.
Wright brings more than 20 years of experience to MSUT and believes that with his technology management background, he can help make an immediate, positive impact at MSUT by increasing faculty engagement, building on the established momentum for the creation of faculty-involved startups, and further increasing positive licensing outcomes for MSU faculty.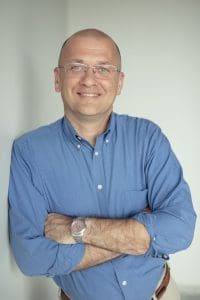 "Coming from a smaller office is proving to be a benefit since I have direct experience with many of the tasks being done throughout the office. That's given me a quick appreciation and understanding for the tasks and challenges that the team faces," explained Wright.
Wright received his undergraduate degree in Chemical Engineering from Auburn University before attending Cornell, where he received a Ph.D. in Chemical Engineering focusing on drug delivery.
After graduation, Wright spent a few years as a small business entrepreneur; here, he gained valuable hands-on experience in marketing, copyright, trademarks, and licensing. He joined Auburn University's technology transfer office as a Technology Manager, where his initial focus was on the university's extensive engineering portfolio.
Wright was promoted to Director of Commercialization, where he helped advance Auburn's wide range of licensable technologies, which included antimicrobial chemistry, probiotics, crop production, canine-based detection, and pathogen sensors, to name a few.
"MSU is fortunate to have an experienced technology transfer professional join the MSUT team in the  Associate Director leadership role. Brian is embracing his responsibilities and contributing to the goals, direction, and everyday operations of MSUT, one of the three pillars of the MSU Innovation Center. I am confident the changes he implements will provide significant benefit to MSU inventors, the university, the entrepreneurial ecosystem, and the public," said Di Sante.
When asked what made MSU an appealing destination, Wright mentioned the appeal of MSU's Land Grant status, commenting on how firmly he supports the mission of Land Grant Institutions like Auburn and MSU. Wright also cited MSUT's strong reputation within professional circles such as the Association of University Technology Managers (AUTM).
Wright added, "Having worked and interacted with several members of the MSUT office on different events and panels over the years, it was clear that team was knowledgeable and professional and would be a good group to work with."