Two Michigan State University College of Natural Science (NatSci) microbiologists, Shannon Manning and Gemma Reguera, are 2024 recipients of prestigious awards from the American Society for Microbiology (ASM). They are among 17 faculty members who received ASM awards nationally.
Manning, an MSU Research Foundation Professor in the Department of Microbiology and Molecular Genetics (MMG) was awarded the Alice C. Evans Award for Advancement of Women. Reguera, MMG professor and NatSci associate dean of faculty development and affairs received the D.C. White Award for Interdisciplinary Research.
The awards are given annually to nominees who have contributed significantly to advancing their careers, institutions, and the study of microbiology. At MSU, the MMG awards committee led by Professor Cindy Arvidson created and submitted the nominations. Awardees were then chosen by an ASM selection committee.
"At MSU, we know well how Shannon and Gemma contribute every day to our excellence," said Victor DiRita, Rudolph Hugh Endowed Chair in Microbial Pathogenesis and MMG department chair. "National awards such as these are very competitive and make it clear that others outside of MSU also recognize their talent and contributions."
Created in 1983, the Alice C. Evans Award for Advancement of Women honors those who have worked successfully toward full inclusion and forward progression of women in microbiology. They must also be mentors and advocates committed to helping other women succeed. Alice Evans became the first woman President of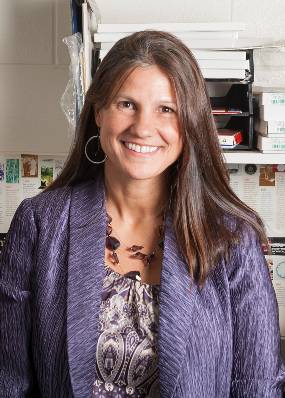 the Society of American Bacteriologists, later branded the ASM, in 1928. She discovered the bacteria that causes brucellosis in humans and cattle which led to the introduction of milk pasteurization in 1930 in the United States.
"It is such an incredible honor to see my name listed along with so many extraordinary women scientists including Alice Evans, Rita Colwell, and Gemma Reguera," said Manning, who is also an MSU AgBioResearch faculty member. "I consider myself lucky in that I have been surrounded and supported by many remarkable women who served as excellent role models throughout my career and life. Their belief in me always gave me strength. Because women in science face unique challenges, I think it's important to recognize the challenges and create the most supportive environment that promotes growth."
"Shannon has demonstrated a deep commitment to training and supporting women in science throughout her career at Michigan State," DiRita said. "She is an exemplary colleague in all regards, and trainees flock to her lab because they will do great science and be trained with attention to their distinct and unique needs. It is wonderful for women in her group to have a role model and mentor of her dedication and caliber."
Two years after receiving the Alice C. Evans Award, Gemma Reguera has now been tapped for the D.C. White Award for Interdisciplinary Research.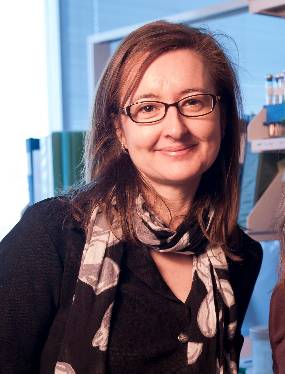 D.C. White was a distinguished role model for interdisciplinary microbial research and an inspirational mentor to others. He is known for bridging the gap between many different fields which he demonstrated by publishing articles in more than 100 different peer-reviewed journals. Awardees must be both outstanding mentors and interdisciplinary collaborators.
"I am thankful to my colleagues at MMG for the nomination and to colleagues outside MSU who supported it," Reguera said. "This award feels even more special when you consider that I am the third woman to receive this honor since its establishment in 2008, and the first woman to receive it since 2011. I hope it does not take so many years to recognize the important roles that women play in mentoring the next generations of interdisciplinary scientists."
As a professor, Reguera knows how foundational mentorship is to scientific scholarship. When she was a postdoc, she met D.C. White and admired how supportive he was of his mentees. Like White, Reguera also values interdisciplinary research for how it affords opportunities to advance science in new, creative directions.
"One of the great features of microbiology at MSU is its highly interdisciplinary nature," DiRita said. "Gemma personifies interdisciplinary research, which is why the D.C. White Award is the perfect recognition. Whether she is using microbes to generate electricity or to develop sustainable building materials, Gemma continually conquers new frontiers through her highly collaborative, intensely creative nature."
In addition to the $1,400 cash prize and a commemorative keepsake, each awardee is invited to be recognized and give a talk at the June ASM 2024 Microbe meeting in Atlanta, Georgia.
With 35,000 members, ASM is the oldest and largest single life science membership organization in the world.
This article originally came from MSU College of Natural Science.
About the MSU Innovation Center: 
The MSU Innovation Center is dedicated to fostering innovation, research commercialization, and entrepreneurial activities from the research and discovery happening across our campus every day. We act as the primary interface for researchers aiming to see their research applied to solving real-world problems and making the world a better place to live. We aim to empower faculty, researchers, and students within our community of scholars by providing them with the knowledge, skills, and opportunities to bring their discoveries to the forefront. Through strategic collaborations with the private sector, we aim to amplify the impact of faculty research and drive economic growth while positively impacting society. We foster mutually beneficial, long-term relationships with the private sector through corporate-sponsored research collaborations, technology licensing discussions, and support for faculty entrepreneurs to support the establishment of startup companies.   
Is your company interested in working with MSU's College of Natural Science? Click Here.