Starting at Commuter Lot 89 traveling down Farm Lane 2.5 miles to the MSU Auditorium – this is the route of Michigan State's autonomous bus.
The Karsan Autonomous e-ATAK bus is bright green with an interior to match. Spartan head decals decorate both sides and front of the 27-foot vehicle.
Since plans were introduced last November, the bus underwent more than 650 test runs on the route and is now accepting passengers.
This summer, it runs Monday through Thursday with the first departure at noon and the last leaving Lot 89 at 1:10 p.m. The bus will not operate August 19 to 24. Location and status updates can be viewed on the MSU Mobility website.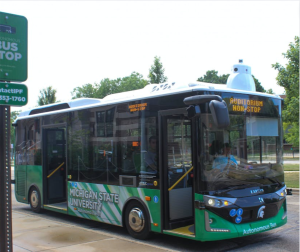 Although the bus can operate on its own, a licensed driver and an engineer sit at the front of the bus monitoring the route to ensure safety at all times.
Campus Services Director Adam Lawver said the driver is responsible for taking control of the bus manually, if needed.
"Let's say we have a construction vehicle in the way," Lawver said. "For safety reasons, they will take the bus out of autonomous mode and then operate manually around that object, that obstacle, and then push a button and put it back into autonomous mode."
In addition to the driver and engineer, Technical Product and Project Manager for Adastec, Cemre Kavvasoglu, was also onboard.
Adastec is an automated driving software company based in Ann Arbor collaborating with MSU to research mobility and bring autonomous vehicles to campus.
Kavvasoglu said the bus carries passengers on three trips per day, but that number will increase as students return to campus in the fall. While onboard, all riders must stay seated for the duration of their trip.
"We want to use Michigan State University and Michigan as a living lab for us," Kavvasoglu said. "Whenever we deployed new products, upgraded our software, we want to test it here."
Green signs are placed along the route to indicate autonomous bus stops.
Kavvasoglu said the public bus route has seven controlled intersections with traffic lights and reflex communication. Also along the route are bike lanes and crosswalks with two uncontrolled left turns.
"This is really mixed traffic with lots of students, scooters, so this is maybe the worst and hardest route for us," Kavvasoglu said. "That's why we aim to stay here for long years to test our bus with the public."
Lawver said the route is designed with off-campus students who park in the commuter lot in mind, to give them a non-stop route to the middle of campus at the auditorium.
"If you park at the commuter lot and you have a class way up at Betsy Hall, for example, this would be a perfect bus to jump on and be there in a short amount of time," Lawver said.
MSU's bus is the first passenger bus in the United States deployed on public roads and the first to carry passengers with a National Highway Traffic Safety Administration, or NHTSA, permit, Kavvasoglu said.
"If you check the NHTSA website, (there are) lots of passenger vehicles, robo taxis or shuttles, but you will see only one autobus and that is this bus," Kavvasoglu said.
Lawver said the bus schedule for the fall is in the planning stages but will operate more frequently than in the summer.
Lawver added passengers are encouraged to fill out a QR code survey sharing their onboard experience. The code is printed on small cards placed around the inside of the bus.
"It's just a really cool partnership," Lawver said. "We're excited to kind of wrap up for the fall semester and give students in the community an opportunity to ride the bus."
Article originally published on The State News