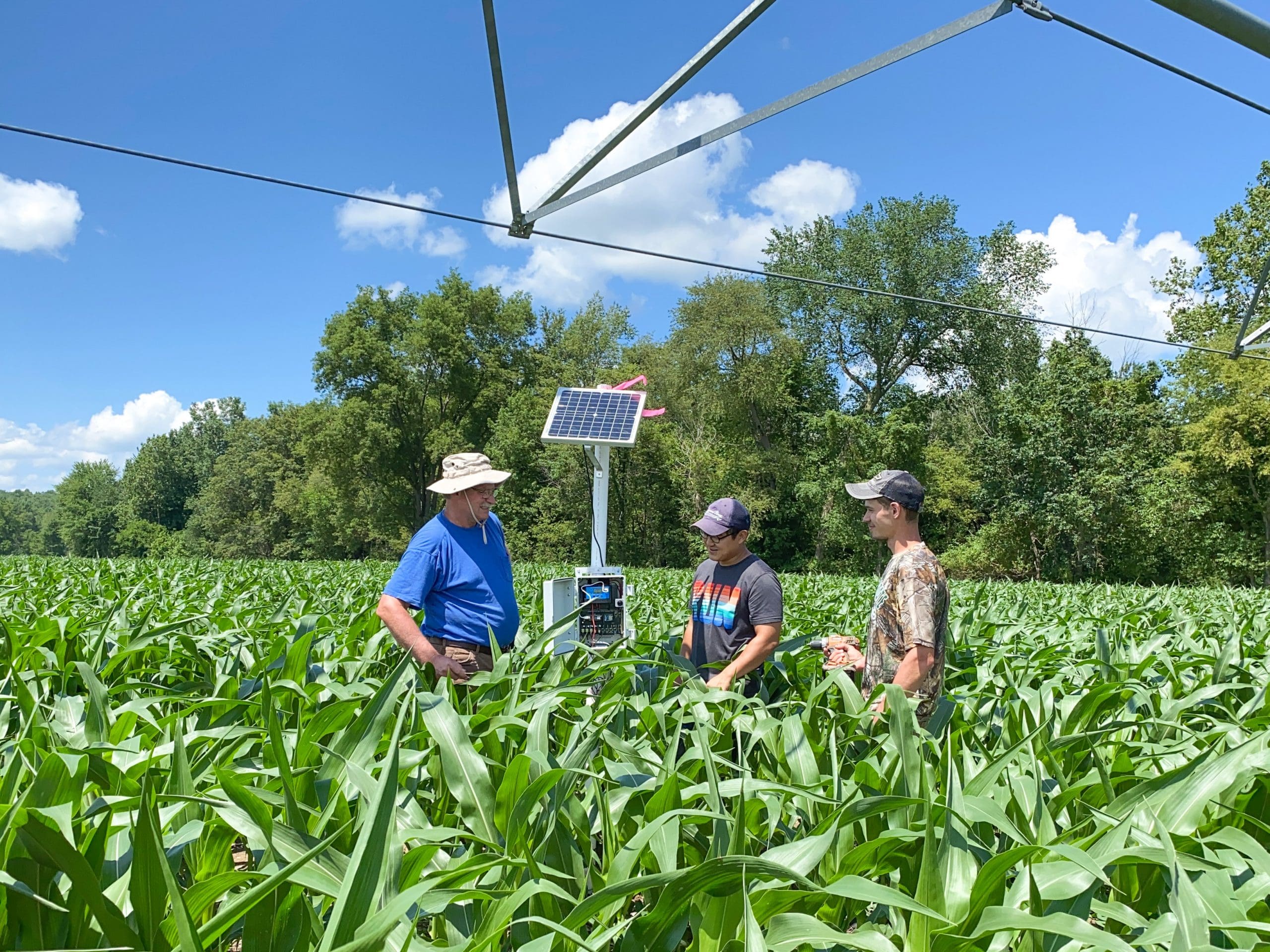 More than 70 low-cost moisture monitoring systems are being installed across Midwestern farmland this year thanks to Michigan State University's Biosystems & Agricultural Engineering Irrigation Research Group (BAE-Irrigation).
The Low-Cost Monitoring System (LOCOMOS) includes hardware and software to help farmers make more informed decisions about how much to irrigate and how to better manage their crops, according to Younsuk Dong, who oversees BAE – Irrigation.
Climate change has been impacting the intensity and frequency of precipitation, making irrigation water and disease management more challenging.
"This technology will help farmers improve irrigation water use efficiency, reduce the potential risk of plant diseases, improve crop quality and yield, reduce water and energy costs, and maximize return on investment," said Dong, a specialist in MSU's Department of Biosystems & Agricultural Engineering.
Dong's lab has collaborated with farmers and crop consultants on the sensor technology since 2018.
"The main motivation for the development of this technology is based on conversations with farmers and crop consultants. They shared the challenges that they are facing, and we have developed a technology to address the challenges," Dong said.
Henry Miller, a farmer in St. Joseph County, has tested the technology in wheat, sweet corn, and soybean fields.
"I thought I was irrigating plenty, but the sensors found that the soil in the wheat fields was drying out at three feet deep," Miller said. "The sensors give you real-time data on what is happening at any given time out in the field, which is really helpful—especially since you can do it remotely."
Bryan Diuble, a corn farmer in Manchester, has two LOCOMOS sensors installed and said that they've helped significantly with irrigation management.
"It's interesting to see the variability in the soil type's ability to hold moisture, even in the same field," Diuble said. "Through the life stages of corn, its moisture needs are different, from three inches tall to six feet tall."
BAE – Irrigation has been working with Jon Debling, a technology manager from the MSU Technologies team at the MSU Innovation Center, to commercialize the technology and brainstorm future applications.
"Jon helped in a number of ways, including discussing the next steps, technology applications, commercialization, and grant opportunities," Dong said. "I'm an engineer so I can dive into technology, but I don't have a lot of experience looking at the bigger picture or other applications. I have really enjoyed working with the MSU Innovation Center."
Dong's LOCOMOS technology has received quite a bit of attention lately — winning large grants, including one from the USDA to install systems in several corn and soybean fields. He also garnered funding from the Michigan Soybean Promotion Committee and the Michigan Potato Industry Commission.
"Beyond these crops, the system is also applicable to a wide variety of other important Michigan fruits and vegetables including carrots, asparagus, blueberries, and tomatoes," Debling added. "The next step towards commercialization of the system is to develop a smartphone app. We were grateful to be awarded a Michigan Translational Research & Commercialization (MTRAC) AgBio starter grant to support this effort." MTRAC is supported by the Michigan Economic Development Corporation.
Dong said the team plans to continue testing the technology over the next two years to optimize its design and usability. He has given presentations on LOCOMOS during multiple events with positive feedback.
"Every time I talk about it, there's always people who ask me when the technology will be available," Dong said. "Whenever I hear that, I get pretty excited."