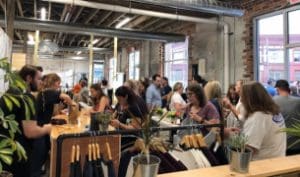 Josh York, Michigan State University and Conquer Accelerator alumnus, opened the first permanent location for his company, the York Project, in late August.
The York Project is a Detroit-based clothing company. York became interested in making clothing when he was in middle school. He made shirts with his mom and sold them to his classmates.
In 2013, during his first year at MSU, York became involved with Conquer Accelerator, a ten-week program that gives entrepreneurs resources and funding to develop their startups. Here, with the help of the Innovation Center, York opened his company.
"The MSU Innovation Center took my college project and turned it into a business," York said. "They introduced me to people that would help me set the foundation for future growth."
York partnered with another Detroit based clothing company, Rebel Nell, on the opening of this store. Both businesses are social enterprises that work to help the homeless community in Detroit.
For every article of clothing the York Project sells, they make a donation to Detroit's homeless community. They donate essential items that are often not donated like toilet paper and socks. In this way, York is able to give back to his community.
"It's been a dream of mine to open a store in Detroit, where I grew up," said York. "It's been my dream for the last seven years."
Jeff Wesley, Executive Director of Red Cedar Ventures, worked with York during his time at the Innovation Center.
"I admire Josh and his team for their grit and passion for their brand and their spirit to impact Detroit in so many positive ways," said Wesley. "Josh is a true entrepreneur. It is rewarding to partner and support him as he continues to hit new milestones of success."
The store, located at 1314 Holden Street in Detroit, had its grand opening August 22nd. It is open Monday-Friday from 10 am to 6 pm, and Saturday 10 am to 3 pm.