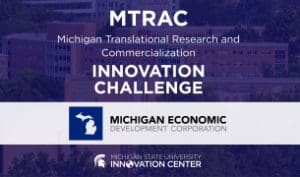 The Michigan Translational Research and Commercialization (MTRAC) AgBio Innovation Hub at Michigan State University has announced the award recipients of its AgBio Innovation Challenge.
The inaugural Innovation Challenge attracted researchers from around the state to submit proposals that apply emerging technologies to address problems in the food, feed, fuels, fiber and biomaterials markets, and the technological and ecological systems that support them.
"The pilot edition of the Innovation Challenge encompassed areas such as farm-level mental health, clean-burning wood energy systems, nanoparticle-based agricultural drone sensors and clean-burning wood energy systems," said Joe Affholter, commercialization program director of the Hub. "It was truly a remarkable crop of ideas."
To compete, researchers submitted concept papers identifying how their research could help solve specific industry challenges. The award dollars will help support research, and potentially advance their work to the early prototype stage at which they might qualify for translational funding under MTRAC or other programs.
The work was funded through the MTRAC Program from the State of Michigan 21st Century Jobs Fund received through the Michigan Strategic Fund and administered by the Michigan Economic Development Corporation.
"The MTRAC AgBio Innovation Hub plays a significant role in advancing the commercialization of agriculture biology projects from some of our state's most innovative researchers," said Denise Graves, university relations director for the MEDC's Entrepreneurship & Innovation initiative. "Michigan's agriculture industry makes up a substantial portion of the state's workforce and economy, and MEDC programs like MTRAC play a critical role in ensuring entrepreneurial success on both a statewide and national level."
Affholter said a wide range of departments and universities were represented in the competition. For example, one top-scoring paper came from MSU's Department of Communications while another came from Plant and Microbial Sciences.
"In addition to Michigan State, we also saw strong, award-winning papers submitted from Western Michigan and Central Michigan universities," Affholter added. "We are delighted to connect with so many skilled innovators around the state. We look forward to many of these researchers turning their early-stage ideas into commercially viable technologies."
Aside from the Challenge, the AgBio Innovation Hub also awards other grants annually. MTRAC starter grants cover projects up to $25,000 (six months) and full grants of up to $100,000 (12 months). Full grant applications are due Nov. 20. The RFP for the next round of starter grants (Feb. 2021) will be posted in late December. For more information, visit the Hub.
2020 Innovation Challenge award recipients include:
Innovation Award ($7,500)
Eric Patterson, Ph.D. (Plant Soil and Microbial Sciences, MSU), "Foliar applied RNA to break Herbicide Resistance."
Amanda Holmstrom, Ph.D. (Department of Communications, MSU), "Addressing Farm Stress via a Highly Tailored Mobile Application."
Exploration Award ($5,000)
Johnson Asumadu, PE (Electrical and Computer Engineering Department, Western Michigan University), "Magnetic Nanoparticle-based Gyroscope Sensor in Agricultural Drones."
Cheryl Swenson, Ph.D. (Department of Pathobiology and Diagnostic Investigation, MSU), "Detection of Disease Using Machine Learning."
Activation Award ($2,500)
Yousef Haseli, Ph.D. (School of Engineering and Technology, Central Michigan University), "A Clean Wood Heating System"
Qi Hua Fan, Ph.D. (Department of Electrical and Computer Engineering, MSU), "Active Trapping of Nitrogen Oxide Using Biochar"
Inspiration Award ($1,000)
Bahar Aliakbarian, Ph.D. (Department of Supply Chain Management, MSU), "Smart Recycling Platform to Tackle Plastic Bottle Waste Management Issue"
Ping Wang, MD, Ph.D. (Department of Radiology, MSU) "Artificial Intelligence Analysis of Magnetic Particle Imaging for Tracking Transplanted Stem Cell Therapy for Diabetes in Animal Models."
Dong Younsuk, Ph.D. (Biosystems and Agricultural Engineering, MSU) "Implementation of a Low-Cost Sensor Monitoring System to Improve Irrigation Water Use Efficiency and Disease Management."