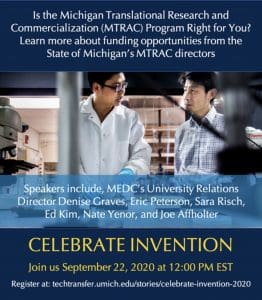 Is the Michigan Translational Research and Commercialization (MTRAC) program right for you?
Faculty can learn more about funding opportunities from the State of Michigan's MTRAC directors during a live virtual session at noon Sept. 22.
During this session, which is part of the Celebrate Invention event at the University of Michigan, five MTRAC directors: Eric Peterson, Sara Risch, Ed Kim, Nate Yenor, Joe Affholter and MEDC's University Relations Director Denise Graves will discuss translational research funding programs – specific technology focus, oversight committee selection process, eligibility and how Michigan's academic researchers and clinicians can participate. Joe Affholter, commercialization program director of the MTRAC AgBio Innovation Hub at Michigan State University, said the session is an opportunity for faculty to learn more about how MTRAC can benefit their research.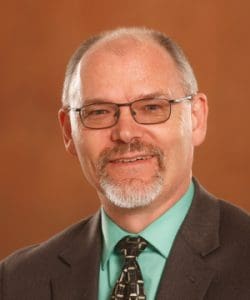 "MTRAC funding is focused on key categories of innovation that are important to Michigan, including agriculture and life sciences, mobility, advanced computing and advanced materials," Affholter said. "I'm excited to present about this valuable resource and help MSU faculty and answer any follow-up questions they may have about our program."
To register for this free event, visit: https://umich.zoom.us/webinar/register/WN_GsgdM5h8RpKbW3SUOo8PUQ
MSU faculty can also connect directly with Affholter at jaffholt@msu.edu.