Christian Nderu is not your typical student entrepreneur. As a senior majoring in experience architecture within MSU's College of Arts and Letters, he possesses a rare blend of artistic sensibility and entrepreneurial acumen. Awarded the prestigious 2023 James Ian Gray Scholarship in Entrepreneurial Studies, Nderu's journey is a testament to the transformative power of creativity, community, and courage.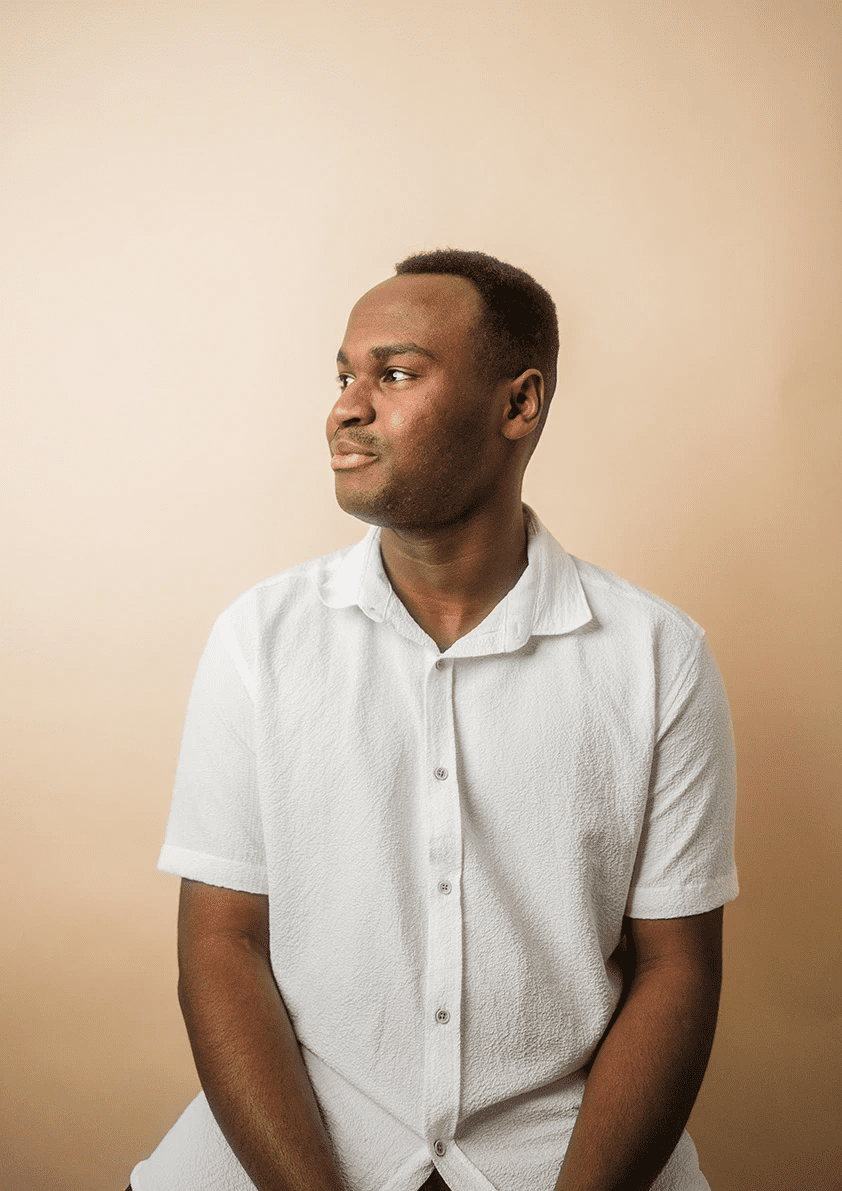 A journey between continents
Born in Baltimore, Maryland, Christian moved to Mombasa, Kenya, at the tender age of 3 or 4. He spent the rest of his childhood oscillating between Nairobi, Kenya's bustling capital, and the serene coastal city of Mombasa. This transcontinental upbringing has afforded him a rich tapestry of experiences that fuels his unique perspective.
"It has given me opportunities to engage with different cultures," Nderu reflects. "My upbringing in Kenya made me aware of the challenges that many face globally, nurturing my open-mindedness and driving my curiosity to solve problems."
Fostering an entrepreneurial mindset
Christian's connection to entrepreneurship began in childhood, thanks to his grandparents who ran a family hotel. Immersed in this environment, he witnessed the multifaceted nature of running a business, from catering to guests to troubleshooting kitchen crises. This hands-on experience influenced his entrepreneurial aspirations, teaching him that entrepreneurship isn't just about making money but impacting lives.
"Ultimately, entrepreneurship is about solving problems and enhancing the quality of life," says Nderu. "The best entrepreneurs, like Brian Chesky and Sal Khan, are those who are motivated by impact rather than profit."
Creating through design
Although he doesn't see himself as an entrepreneur just yet, Nderu is a brand and experience designer with an entrepreneurial flair. His experience architecture major and participation in the Burgess Institute's programs, including the minor in entrepreneurship and innovation, have shaped a problem-solving mindset that merges entrepreneurial strategies with design thinking.
"The entrepreneurial mindset is solutions-oriented, perfect for receiving feedback and problem-solving," he explains. "On the other hand, design thinking helps us to deconstruct problems from all angles. Both are invaluable skills in my career."
A community of innovators
Joining the Burgess Institute initially as an intern seeking graphic design opportunities, Christian soon discovered a like-minded community of aspiring entrepreneurs. The program aligned with his passion for design and provided him with resources to explore financial solutions through blockchain technology—a problem that once almost left him stranded during a winter break.
"The Burgess community is truly amazing," he remarks. "It's a support network of talented students and committed faculty who provide guidance, inspiration, and direction."
A scholarship and a commitment
For Nderu, the James Ian Gray Scholarship is more than just financial aid; it is a nod of approval from a community that has become an integral part of his academic journey.
"I'm incredibly grateful to the Burgess Institute and the donors," he says. "This scholarship propels me to work even harder towards my goals."
Looking forward
With a hopeful eye on the future, Christian plans to work as a junior designer in marketing or branding agencies post-graduation. Cities like Chicago, Denver, Detroit or New York are on his radar. Through his work, he aims to continue impacting lives—whether that be through design or a return to entrepreneurship later in life
"To me, it's all about making a few people's lives easier," Christian sums up. "Whether through design or entrepreneurship, I want to contribute to something greater than myself."
Each year, the MSU Innovation Center awards the James Ian Gray Scholarship in Entrepreneurial Studies to an MSU student exhibiting exceptional qualities of an entrepreneur. Named after Dr. James Ian Gray, who spearheaded the creation of the Innovation Center and served as vice president for Research and Graduate Studies at MSU for nearly a decade, this scholarship honors Nderu's determination as a young, motivated creator. The recipient of the Ian Gray Scholarship receives $2,000 per semester to help cover tuition or student expenses.
To learn more about Christian Nderu's journey, you can connect with him on his website and Instagram.
This story originally appeared on the Burgess Institute for Entrepreneurship & Innovation website.
This article originally came from MSU Today.
About the MSU Innovation Center: 
The MSU Innovation Center is dedicated to fostering innovation, research commercialization, and entrepreneurial activities from the research and discovery happening across our campus every day. We act as the primary interface for researchers aiming to see their research applied to solving real-world problems and making the world a better place to live. We aim to empower faculty, researchers, and students within our community of scholars by providing them with the knowledge, skills, and opportunities to bring their discoveries to the forefront. Through strategic collaborations with the private sector, we aim to amplify the impact of faculty research and drive economic growth while positively impacting society. We foster mutually beneficial, long-term relationships with the private sector through corporate-sponsored research collaborations, technology licensing discussions, and support for faculty entrepreneurs to support the establishment of startup companies.   
Is your company interested in funding future scholarships? Click Here.