A new eco-friendly energy source could stem from the food wrappers we throw away daily.
Ezra Bar-Ziv, a professor of mechanical engineering at Michigan Technological University (MTU), was awarded two Michigan Translational Research and Commercialization (MTRAC) grants from MTRAC Innovation Hub for AgBio at Michigan State University for his energy technologies.
MTRAC grants are awarded to assist with the commercialization of new technologies. The MTRAC Innovation Hub for AgBio is dedicated to the commercialization of technologies that advance the competitiveness of Michigan's food, agriculture and industrial bioeconomy. The program is co-funded by MSU and the Michigan Economic Development Corporation (MEDC) through the Michigan Strategic Fund.
"One of the key objectives of the MTRAC Statewide Program is to support technology commercialization within all of our universities, hospital systems and nonprofit research centers," said Denise Graves, university relations director at MEDC. "This project is a great example of that collaboration – using the expertise of the AgBio Innovation Hub at Michigan State to support research and commercialization activities at Michigan Tech."
The MSU Innovation Center MTRAC team has been working with Bar-Ziv since he was awarded the first MTRAC grant.
"Dr. Bar-Ziv and the team have set a great example of how to use scientific rigor and technical ingenuity to deliver high-value solutions to real customers," said Joseph Affholter, the commercialization program director for the MTRAC AgBio Innovation Hub, which runs under the MSU Innovation Center.
This is the spirit of translational research, Affholter, explained. "They have navigated a complex innovation process. Their curiosity, flexibility and commitment to value creation has delivered a commercialization-ready technology to customers and is a timeless example to other academic researchers seeking to solve practical problems through innovation."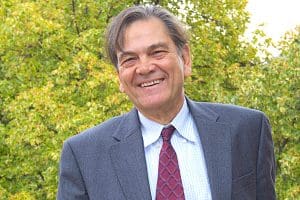 Bar-Ziv's research looks at environmentally friendly solutions to combustion energy, in which materials are burned to produce heat energy. He is specifically researching ways waste materials can be utilized in this manner. Instead of sending plastic waste material, such as food wrappers, to the landfill, they can be sent to facilities with Bar-Ziv's technology.
He was awarded his first MTRAC AgBio grant in 2018 through a competitive grant proposal submission. This $50K matching fund grant supported his research that uses biological materials as feedstocks for petroleum refineries.
In 2019, he submitted a proposal for a second technology that resulted from previous MTRAC awarded research. This new technology is able to remove chlorine from solid plastic waste streams. Chlorine is an undesirable byproduct of burning plastics, and by removing it, the plastic can be cleanly used for combustion energy. The chlorine is recycled, as the system uses the chlorine gases to heat itself. Bar-Ziv was awarded a larger $100K MTRAC AgBio match grant for this second project.
"Feedback from the oversight committee through the MTRAC process is extremely encouraging," Bar-Ziv said. "They have one thing in mind: They want you to focus and bring a product to the market. Without the MTRAC support, it would have been hard to do the commercialization."
Convergen Energy, an energy company in Wisconsin, wants to commercialize Bar-Ziv's design. Together, they are working on the pre-design which will help the company determine how to move forward with the technology. They are exploring what the system will look like, the cost of the system and the business benefits. The system will then be used to create this clean combustion energy.
"There is the so-called 'Valley of Death' between discovery and user adoption," said Jim Baker, associate vice president for Research Administration at MTU. "Equally as important is the feedback from the MTRAC oversight committee as well as the program management to accomplish the core goals. MTRAC fills an essential gap between laboratory research and use."
The MTRAC program is supported by funds from the Michigan Strategic Fund (MSF) and administered by the MEDC Entrepreneurship & Innovation initiative, with additional funding coming from partner institutions. Through March, MTRAC programs have received 790 proposals, funded 362 projects, developed 72 startup companies, licensed 58 technologies to industry partners and secured more than $283 million in follow-on funding.
MEDC's Entrepreneurship & Innovation initiative establishes Michigan as the place to create and grow a business by providing high-tech startup companies with access to a variety of critical resources, such as funding and expert counsel, from ideation to maturation. For more information on MEDC's Entrepreneurship & Innovation, please visit www.michiganbusiness.org/entrepreneurship.