Dry Bean Breeding and Variety Development
Dr. James Kelly
University Distinguished Professor, Department of Plant, Soil and Microbial Sciences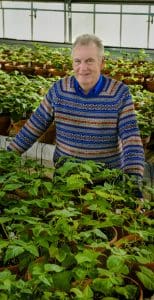 Dr. Kelly's research expertise includes dry bean breeding and genetics with emphasis on the use of molecular markers to assist in the selection for yield, plant architecture, processing quality, drought tolerance and disease resistance. Through his work, he has developed 47 bean varieties in 14 market classes over the past 35 years.
This is despite the challenges that face bean production, including high plant costs, production on primarily marginal lands and limited investment in research. His achievements in the field include a navy bean called C-20, which has led to many black bean and navy bean descendants, and his recent 2015 release, Samurai, which is grown in Michigan and used in Japan where it is used in many Japanese baked goods and sweets.
Born and raised in County Antrim in the northeastern part of Northern Ireland, Dr. Kelly received his bachelor's degree in agriculture in Ireland before coming to the United States to pursue his doctoral degree in plant breeding from the University of Wisconsin. Upon receiving his Ph.D., Dr. Kelly began working with beans at the Campbell Soup Agricultural Research Institute before joining the MSU faculty in 1980 as an assistant professor in the Department of Crop and Soil Sciences (now Plant, Soil and Microbial Sciences.)
He was awarded the honor of MSU Distinguished Professor in 2013.
MSU Technologies is pleased to recognize Dr. Kelly for his innovative contributions.