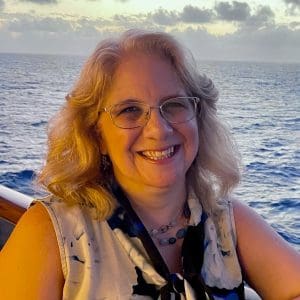 Karen Lavery was recently appointed to the role of Financial Analyst of MSU Technologies at the MSU Innovation Center.

Lavery attended the University of Phoenix, earning a bachelor's degree in accounting.
Lavery joined the Innovation Center team in June 2022 and assists the IP Finance Coordinator, Jen Folger.

"Karen has a great attitude and is more than willing to learn the intricacies of tech transfer finance," Folger said. "It's been a pleasure having her on board and learning the ropes."
Lavery is responsible for taking care of invoices, revenue distribution after patenting, setting up funds, and handling paper checks.

"Karen, at this point in her training, mostly interacts internally. However, she does send out invoices to our licensees and receipts for payments received," Folger said.

After a patent is set up, it then goes to Lavery so she can set up funds. Patents and information are sent directly to her, and she reaches out to clients when needed.

"Karen's position supports my position. Part of what this structure does is provide an opportunity for separation of duties, which is very important when dealing with financials," said Folger. "In addition, she will be assisting me in ensuring the accuracy and completeness of our records."

Lavery works with MSU's online electronic banking system, making sure that client accounts are set in order and that funds are put into the correct accounts. She is responsible for the majority of financial entry data and transaction initiation.

"I do a lot with EBS; I always have windows open transferring information back and forth," Lavery said. "That's how we make sure the money goes into the right baskets."

Keeping track of tech transfer finances is intricate work. Lavery is experienced in financial relations and has worked with Michigan State since 2013. She previously worked in the Office of Sponsored Programs (OSP).