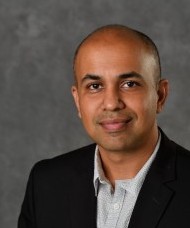 Dr. Shaunak D. Bopardikar's research is a driving force in Michigan State University's mobility studies.
Bopardikar is an assistant professor in the Electrical and Computer Engineering Department in the College of Engineering. His research focuses on motion planning for one or more autonomous vehicles to ensure resilient operation. Bopardikar and his research team develop mathematical models using techniques from optimization and game theory for efficient and effective vehicle performance.
Motion planning has a variety of applications, including surveillance from aerial vehicles, searching areas quickly during disaster response and tracking fish using multiple autonomous underwater vehicles.
Bopardikar's interest in mobility sprouted from his love of mathematics and his undergraduate and graduate studies in robotics and control at the Indian Institute of Technology Bombay and at the University of California Santa Barbara.
"Mobility involves integration of several concepts from mathematics and robotics," Bopardikar said. "I have been fascinated by the rigor and beauty in mathematics since high school."
Bopardikar's passion for mathematics and robotics has brought him far since high school. His work in motion planning, resilient systems, and efficient computation has led to several publications and two patent applications.
"I am particularly proud of some of my algorithms and their analysis which shows efficient intercept of mobile targets," Bopardikar said.
Moving forward, Bopardikar and his research team plan to work with the Connected Autonomous Networked Vehicles for Active Safety (CANVAS) group at MSU in order to experimentally evaluate their algorithms and models on autonomous vehicles.
"We have several talented students and passionate faculty members at MSU," Bopardikar said. "Some of their lab facilities are world-class and renowned."
You can check out Bopardikar's website here.