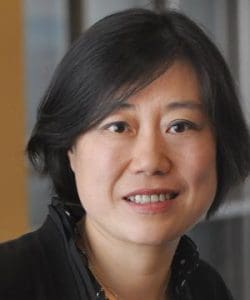 Dr. Tongbin Teresa Qu, Associate Professor for the MSU School of Planning, Design and Construction, has dedicated her career to research in active transportation, sustainable transportation and big data in transportation and autonomous urbanism.
Her passion for mobility research stems from her father who worked as a railway engineer, and her fascination with how – in just days, hours, or even minutes – you can be in a completely different location doing something else.
Qu's research at MSU focuses on the three A's: active transportation, accessible transportation and autonomous vehicles. She narrows in on the walkability and bike ability of certain congested downtown areas, the accessibility of transportation and how autonomous vehicles can be applicable for all ages and abilities.
Her extensive work has covered a wide array of urban issues, including travel demand and vehicle emission modeling, traffic congestion monitoring and bicycle and pedestrian planning and modeling. In 2013, her bike share system research and implementation in Texas received national honors.
"Because of my previous research, I realized how important it is to have alternative and environmentally sustainable modes of transportation as well as transportation that is inclusive to everyone," Qu said. "I look at our current transportation system and how infrastructure currently meets all the user's needs and where it can be improved."
Qu emphasizes the need for looking at the interaction of emerging technologies, like e-scooters at MSU and future autonomous buses, and how these interfere with the active transportation of people walking and biking on campus.
"How do you make autonomous vehicles work for people with disability? What are the functionalities they need to have to inclusively serve everyone?" Qu said. "If these vehicles were designed simply for able bodies, then you'd miss a large group of the population who would need autonomous vehicles the most."
These questions are what Qu's current research at MSU aims to answer. Despite the challenges still ahead in navigating the implementation of autonomous vehicles, Qu feels confident in MSU's ability to remain a leader in mobility.
"Other places may have very advanced research in a certain field, but the interdisciplinary collaboration at MSU allows them to stand out among other universities," Qu said.