Michigan State University displayed some of its latest innovative research and introduced attendees to the mobility experts of tomorrow at the 2023 North American International Detroit Auto Show.
MSU students and faculty — in partnership with the University Research Corridor, or URC, a cluster of three public research institutions in the state also including the University of Michigan and Wayne State University — presented current research related to mobility as part of the auto show's AutoMobili-D lineup.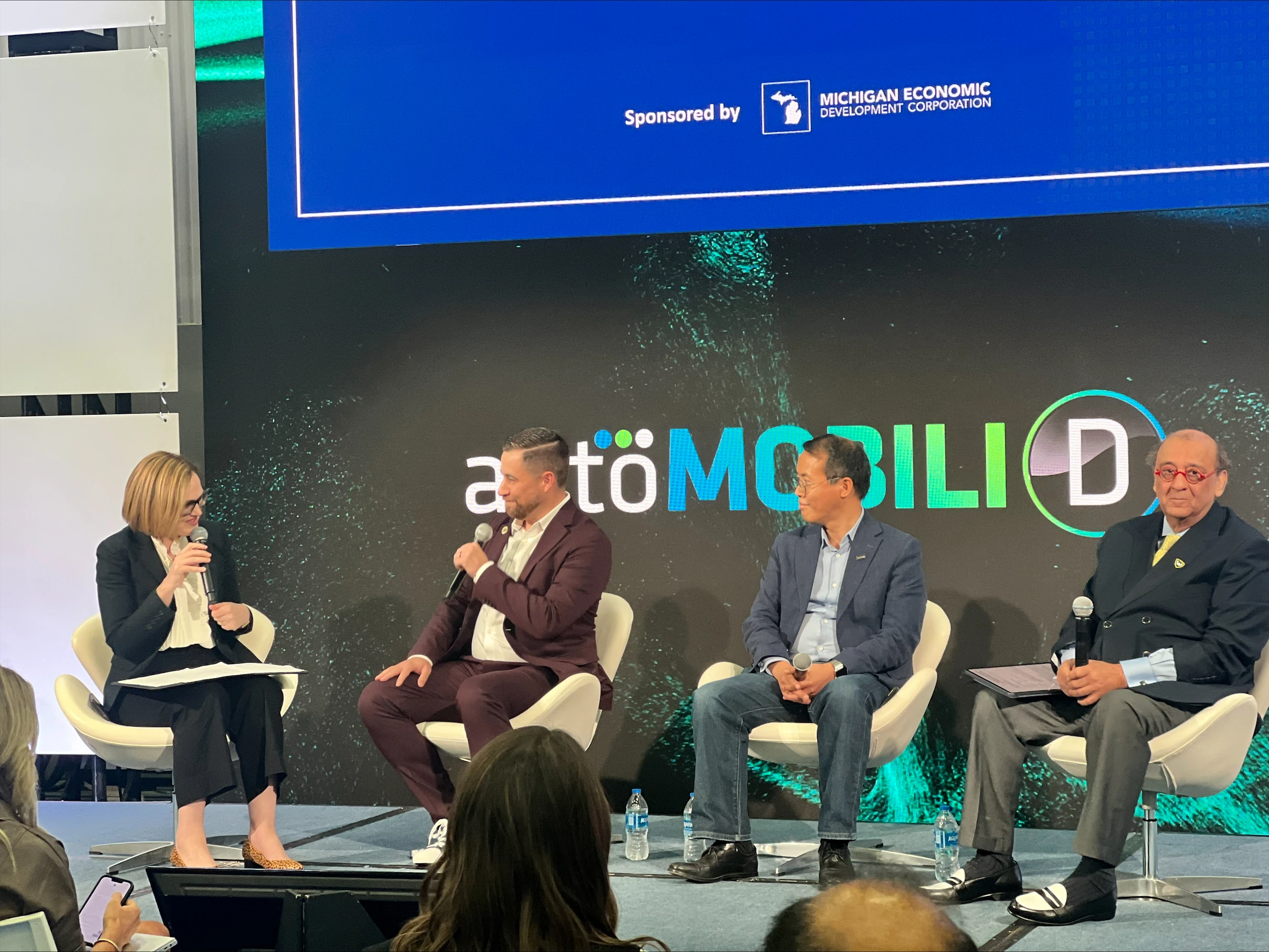 The new director of MSU Mobility, Judd Herzer, participated in a panel discussion on Sept. 14 titled "Michigan's University Research Corridor: Developing the Mobility Talent and Innovations of Tomorrow." URC panel participants discussed solutions for electric vehicle and mobility workforce development and initiatives to attract and retain talent in Michigan.
"If we look at numbers from the College of Engineering alone, we know that 60% of Spartan engineers will go on to live and work in Michigan after they graduate," said Herzer. "With the efforts like the 2023 launch of the Michigander EV Scholars program, which places student interns in companies like General Motors, Ford, and Bosch, MSU is working to improve, support, and diversify the talent pipeline in Michigan."
Herzer also discussed MSU's planned engineering and digital innovation center on campus that will respond to industry needs and student demand, support economic development, leverage opportunities for testing integrated chip-based systems, and support growth in materials research and emerging initiatives, such as semiconductor research.
As part of the URC booth schedule, several MSU researchers, students, and industry collaborators presented their latest research findings. Chris Saffron, an associate professor in the MSU College of Engineering, discussed his current research to develop sustainable electrobiofuels.
"Sustainable electrobiofuels combine energy from biomass with energy from renewable electricity to make liquid fuels," said Saffron. "These alternative fuels also sequester carbon through plant roots and biochar land application thus reducing atmospheric carbon dioxide responsible for climate change."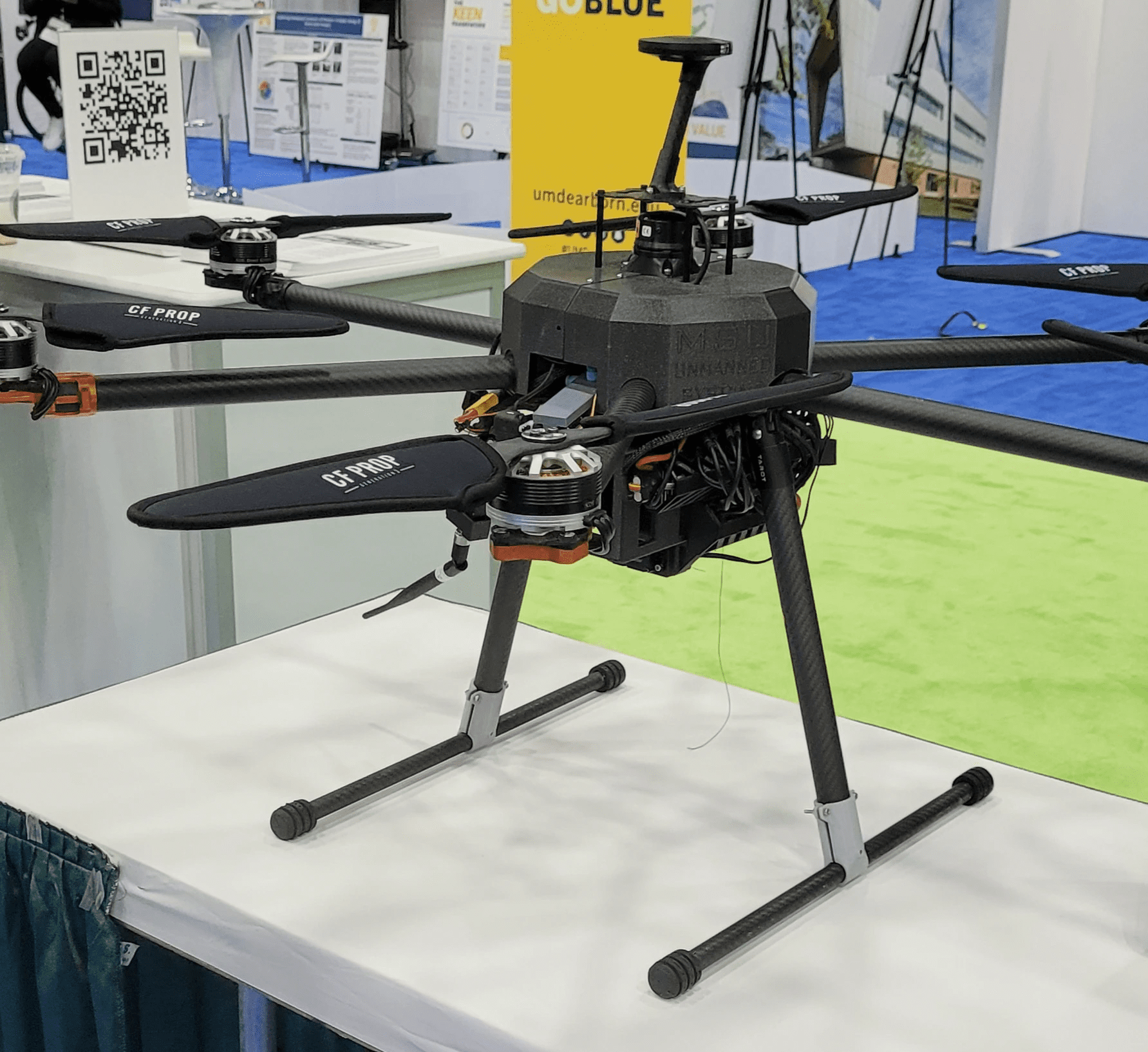 Matthias Muehle, scientist at Fraunhofer USA, Inc., and an adjunct professor in MSU's College of Engineering, presented his work to improve EV range and faster charging, which was developed in partnership with MSU.
"The research we shared at the Detroit Auto Show describes a new, unique approach for cooling the internal electric components in EVs and their associated charging infrastructure," said Muehle. "We created diamond nanomembranes, which are thinner than a human hair. These membranes can be integrated with existing electronics and will boost efficiency, mileage and charging speed of future EVs."
Additional presenters included Xiaohu Lu, a doctoral candidate in the MSU College of Engineering, who explained his research that aims to keep autonomous vehicles safe and secure from hackers, and Cemre Kavvasoglu, a project management director at ADASTEC Corp. discussed MSU's autonomous bus.
Several students and alumni from MSU's College of Engineering also showcased their projects. MSU Drone Research and Innovative Flight Technologies, or DRIFT, which started as a student effort in 2021, brought two NASA-funded drones to the show. The first DRIFT drone is designed to carry and transport 20 pounds worth of goods with an extended delivery range by landing on public transportation. The second drone is designed to charge its battery in flight to optimize flight duration and service area.
"Founded by students, for students, our team provides an opportunity for undergraduates to jump-start their career through advanced, real-world engineering problems," said Gavin Gardner, DRIFT project manager and College of Engineering alum of 2022. "Our research is completely funded by awards, grants, sponsorships, and investments by others who want to support our mission to revolutionize drones, and we were excited to showcase our work in hopes that industry partners might notice."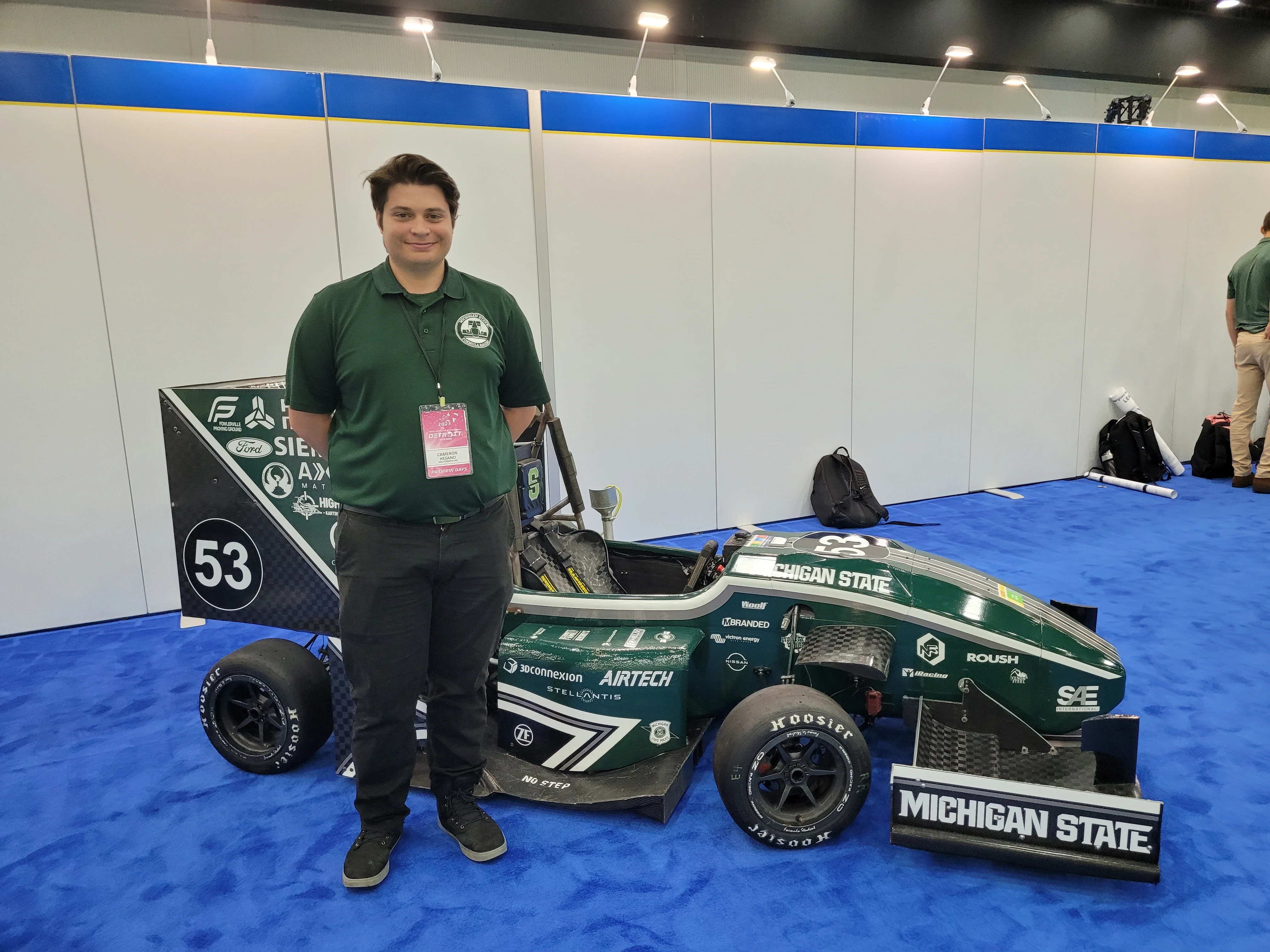 Members of three of MSU's student racing teams were on-site to present, including representatives from the MSU Solar Racing Team, the Baja Racing Team and the Formula Racing Team, who brought its green and white Formula SAE car to display at the show.
"The car that we brought to the show is the last version of our car that will have an internal combustion engine," said Cameron Hesano, chief engineer for MSU's Formula SAE team and current senior, who talked with attendees about the team's forthcoming all-electric vehicle.
The URC booth was on view for NAIAS Media Days on Sept. 13 and 14 ahead of the public opening, which runs through Sept. 24.
"We were very proud to put MSU front and center at one of the auto industry's premier automotive events," said Herzer. "MSU offers innovative educational programs, unique research collaborations, and opportunities to establish and grow industry relationships — we want to send skilled talent to employers in Michigan and around the world to ensure the future and safety of mobility."
This article originally came from MSU Today.
About the MSU Innovation Center: 
The MSU Innovation Center is dedicated to fostering innovation, research commercialization, and entrepreneurial activities from the research and discovery happening across our campus every day. We act as the primary interface for researchers aiming to see their research applied to solving real-world problems and making the world a better place to live. We aim to empower faculty, researchers, and students within our community of scholars by providing them with the knowledge, skills, and opportunities to bring their discoveries to the forefront. Through strategic collaborations with the private sector, we aim to amplify the impact of faculty research and drive economic growth while positively impacting society. We foster mutually beneficial, long-term relationships with the private sector through corporate-sponsored research collaborations, technology licensing discussions, and support for faculty entrepreneurs to support the establishment of startup companies.   
Is your company interested in funding further mobility research on campus? Click Here.