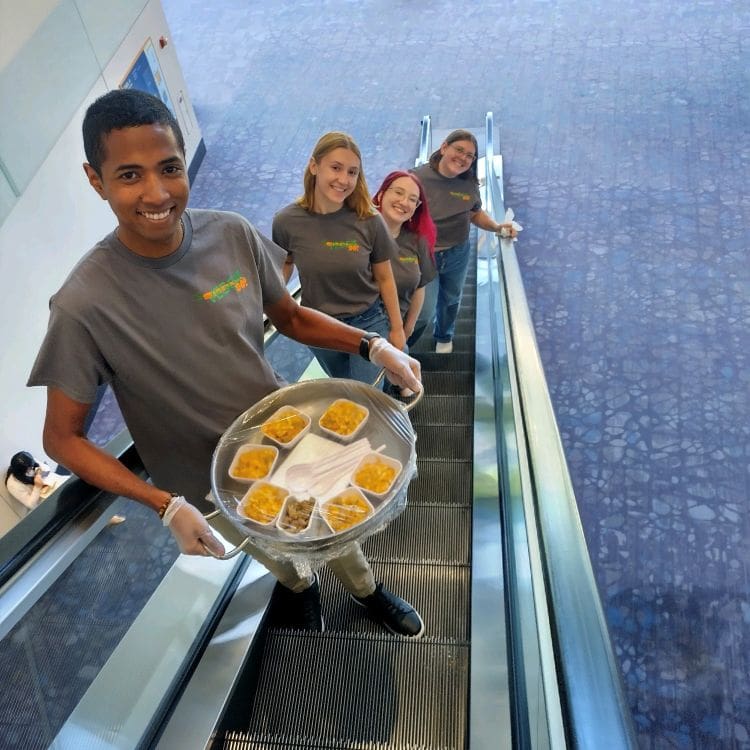 The Michigan State University Product Development Team traveled to Chicago from July 16 to July 19 to compete in the 33rd Annual IFTSA MARS Product Development Competition at the IFT First Annual Conference.
The team submitted a preliminary proposal of their product in February, along with many other university teams from across the world, and was chosen as one of the six finalist teams to compete, submit a final report, and give a presentation and product tasting for the panel of judges. At the end of the competition, the team and their product "Chik'n Cheese" placed 3rd overall.
Chik'n Cheese is a protein and plant-powered pasta marketed towards families with picky eaters as well as those looking for more protein in their diet. Whole grain noodles are smothered in a three-cheese sauce consisting of butternut squash, sweet potatoes, onions, and carrots for a serving of vegetables. The product is topped with a plant-based chicken alternative made of cannellini beans, vital wheat gluten, and tofu. Overall, the product boasts 29 grams of protein and is a good source of iron and calcium.
The Product Development Team had a great year perfecting Chik'n Cheese and planning the marketing, processing, and economic aspects of the product. The MSU Product Development team has competed as a finalist in this competition every year for over a decade, and the team is excited to begin planning again next fall. Congratulations to the MSU FSHN Product Development Team! Go Green!
Would you like to know more about the MSU FSHN Product Development Team? Click HERE.
This story was originally published by the College of Agriculture & Natural Resources Department of Food Science and Human Nutrition.