In April 2022, Audrey Grantz was appointed CDA/MTA/DUA Coordinator, officially joining the CDA/MTA/DUA team.
While working at MSU, she has negotiated material transfer agreements (MTA), Confidential Disclosure Agreements (CDA), and many Data Usage Agreements (DUA). Audrey's responsibilities in this position focus on ensuring faculty intellectual property are protected through these agreements.
Grantz brings an outside perspective while joining the CDA/MTA/DUA team. With Grantz's background in plant breeding and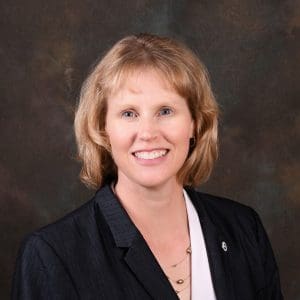 genetics research, she can understand the faculty's point of view and help negotiate for their benefit.
In the past, Grantz has worked for Michigan Farm Bureau, where she helped farmers that struggled during the pandemic. Audrey also advocated for Michigan specialty crop producers during multiple international trade disputes while working for Michigan Farm Bureau.
Spartan Innovation Center's Executive Director, Anne Di Sante, expressed Grantz's strengths by stating, "Audrey is an experienced MSU employee who understands the research enterprise within an academic institution. This unique perspective helps her manage faculty relationships and expectations as they work with her on the MTA/CDA/DUA process."
Grantz said she is excited to continue her work with MSU Innovation Center and work with MSU faculty to ensure their innovations are protected.
When asked about the type of position she holds, Grantz expressed how niche and rare her job is in the United States. But, she said, "My goal is to support faculty and to continue to understand my unique job so that I can be as effective and efficient as best as I can."
MSU faculty can submit agreement requests that Grantz and her co-workers will write up, look over and submit to either corporations or other faculty looking to get involved in their research. "We receive over 1,000 agreement requests a year," Grantz explained. "These agreements can be confidential disclosure agreements, material transfer agreements, or what are becoming more numerous, data usage agreements."
Di Sante also expressed how MSU faculty can benefit from Grantz and her position, "Faculty require access to confidential information, data, and materials from third parties to support their research efforts. At other times, faculty must provide confidential information, data, and materials to collaborators outside the university. Completed confidentiality agreements, data use agreements, and material transfer agreements set the rules for these transfers. In doing so, Grantz supports the continued advancement of a faculty member's research plans."
In the growing digital era, Grantz expressed how more and more faculty need DUAs because of how much data is analyzed post-pandemic. When diving into the future of her position, Grantz stated, "In the coming years, I expect to see an exponential growth in DUA requests because of how data is recorded coming out of the pandemic."
Moving forward in her position at MSU Innovation Center, Audrey Grantz is excited to be the contact that faculty can reach out to with any agreement concerns.