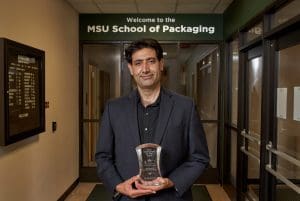 Dr. Muhammad Rabnawaz, assistant professor in the School of Packaging and professor in the Chemistry Department, is developing new ways to create plastics.
Rabnawaz is researching ways to produce biodegradable plastics and recycle polymers. He utilized resources at the MSU Innovation Center to assist on the technological side of his work and stated that the support provided by the Innovation Center is "very important" to his research.
"The Innovation Center gives me peace of mind in a way that they are very proactive in protecting our technologies," said Rabnawaz.
Rabnawaz received the 2021 "Innovator of the Year" award for his work in biodegradable and recyclable plastics and polymers. He has received a grant from the Innovation Center and often credits the MSU IC for tech success in his research.
The Innovation Center assisted with filing patents and connecting with commercial partners. This gives researchers time to focus on their work rather than stressing about paperwork and other documents.
"With the due diligence of the team and tech manager Jon Debling, without them, the process of patenting would have been very slow," Rabnawaz said.
Rabnawaz has filed 30 patents, with eight being operational. In his academic research, he has published over 50 research articles focusing on polymer materials.
Rabnawaz and his lab are not the only ones working on biodegradable polymers. He expresses that this is a competitive field and time is important.
"Proactive work and willingness to protect our technologies enable us to move forward quickly without wasting time, Rabnawaz said. "Big brains, big money, everyone is looking into these solutions."
Rabnawaz is still in the early stages of his work, but discovering biodegradable plastics would be a revolutionary breakthrough that would have a far-reaching impact across nearly every industry.
Are you an MSU Faculty member in need of assistance protecting your intellectual property or patenting a discovery? Click Here.