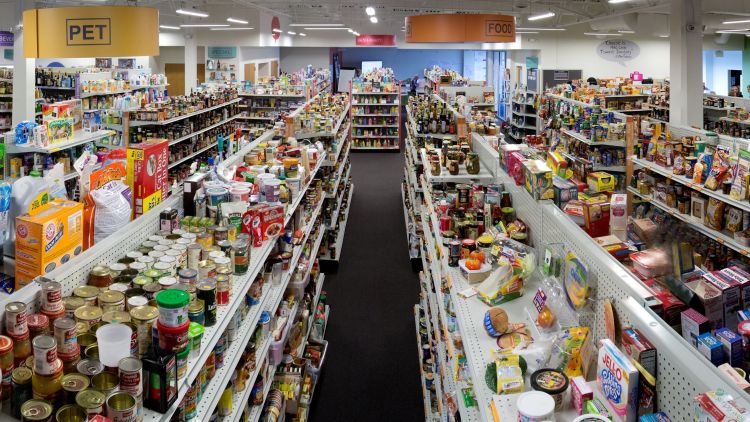 "The School of Packaging is pleased to accept this one-of-a-kind collection from Ipsos," said Matthew Daum, Ph.D., director of the MSU School of Packaging and assistant dean of corporate relations and strategy for the MSU College of Agriculture and Natural Resources. "Bringing the NewProductWorks Collection to MSU creates unique teaching and research opportunities for our students and faculty and it will be a resource for the MSU community. Our vision is to restore the physical setup and extend the digitized version not just for packaging, but also product marketing, advertising, and other disciplines. This is an example of how the school strives to create valuable learning experience for our students, and distinction for our program."
The result of decades of painstaking curation and archival research, NewProductWorks contains more than 140,000 packaged goods manufactured between 1980 and 2017, encompassing 350 categories in global, regional, and local markets. The collection is displayed within a simulated supermarket, offering visitors a hands-on means to compare products or gather ideas for research and development.
Ipsos is donating the NewProductWorks Collection, and its relocation to East Lansing, Michigan. Additional support from Ipsos will fund the initial set-up and oversight of the collection. Smithers Corporation is donating space near MSU's campus to display the products in a simulated supermarket setting.
"We're proud to bring NewProductWorks to Michigan State, where it can be a resource for the next generation of marketers, packagers, researchers and historians," said Peter Mackey, executive vice president and head of Ipsos' UX Business. "Under the university's stewardship, this unique asset will continue to inspire innovation and excellence in product design."
The NewProductWorks Collection will function as a learning center for industry experts, faculty, and students. It will serve as a unique focal point for the School of Packaging with a goal of continuing the use of the collection for educational and outreach purposes. Multiple units within MSU can integrate learning opportunities with the collection including marketing, advertising, entrepreneurship and supply chain departments.
"Smithers has a fantastic relationship with Michigan State. Many of our team members came from the School of Packaging, and we've collaborated with them many times as guest speakers, mentors, and technical research partners. Supporting the School of Packaging is a top priority for us, so of course we're honored to be a part of the university's plans to showcase the recently acquired NewProductWorks collection," said Michael Kuebler, technical director of the Materials Science and Engineering Division for Smithers.
In addition to generating revenue that would support the School of Packaging, this collection will be a significant and unique educational resource for MSU students. Using MSU digital technology resources, a long-range goal of completely digitizing the current and future collection for additional industry and educational benefit will be developed.
Housed within the College of Agriculture and Natural Resources, the top-ranked MSU School of Packaging is the first school of packaging in the United States and the largest packaging program in the country. With over 600 undergraduate and graduate students, it is the only school that offers a Ph.D. program in packaging. The school boasts 10,000 alumni worldwide with alumni at Fortune 500 companies across the country and half of the industry's packaging professionals.
About Ipsos
Ipsos is one of the largest market research and polling companies globally, operating in 90 markets and employing over 18,000 people. Their passionately curious research professionals, analysts and scientists have built unique multi-specialist capabilities that provide true understanding and powerful insights into the actions, opinions and motivations of citizens, consumers, patients, customers or employees. Their 75 solutions are based on primary data from our surveys, social media monitoring, and qualitative or observational techniques.
About Smithers
Founded in 1925 and headquartered in Akron, Ohio, Smithers is a multinational provider of testing, consulting, information, and compliance services. The Smithers distribution testing laboratory in Lansing is a leading provider of packaging and distribution testing services for a wide range of market sectors, from automotive manufacturers to e-commerce businesses and beyond. The lab is equipped to recreate real-world supply chain environments, including climatic conditions and physical events, in a controlled setting. Countless industries rely on Smithers for pre-shipment testing and validation, root cause analysis, and countless other services.
This article originally came from the College of Agriculture and Natural Resources.
About the MSU Innovation Center: 
The MSU Innovation Center is dedicated to fostering innovation, research commercialization, and entrepreneurial activities from the research and discovery happening across our campus every day. We act as the primary interface for researchers aiming to see their research applied to solving real-world problems and making the world a better place to live. We aim to empower faculty, researchers, and students within our community of scholars by providing them with the knowledge, skills, and opportunities to bring their discoveries to the forefront. Through strategic collaborations with the private sector, we aim to amplify the impact of faculty research and drive economic growth while positively impacting society. We foster mutually beneficial, long-term relationships with the private sector through corporate-sponsored research collaborations, technology licensing discussions, and support for faculty entrepreneurs to support the establishment of startup companies.   
Is your company interested in collaborating with the School of Packaging at MSU? Click Here.