"MSU St. Andrews offers a great synergy of purposes." 

 — Charles Hasemann, Ph.D., Associate Vice President for Innovation and Economic Development, Michigan State University Innovation Center 
Over half a century ago, in 1967, the Michigan Foundation for Advanced Research announced plans to sponsor a Midland-based laboratory devoted to applied research and the advanced training of scientists in the field of macromolecular study. Five years later, designed by local architect Alden B. Dow, Fellow of the American Institute of Architects and son of Perkin Medal-winning industrialist and Dow Chemical Company founder Herbert Henry Dow and philanthropist Grace Anna Dow, and funded by the Herbert H. and Grace A. Dow Foundation, the Michigan Molecular Institute officially opened its doors. 
Strategically located near three of Dow's existing buildings (the Midland Center for the Arts, the Municipal Library, and the Dow Gardens), as part of what he envisioned to be the "creative center" of the city and in order to further promote the close relationship between science and arts, the $1.7 million facility served as a hub for scientific exploration and discovery. Design features included a central research library, 13 laboratories (each with a large floor-to-ceiling corner window and its own scenic view of the property's wooded surroundings), 14 offices, a lecture hall, a seminar room, a computer room, a recreation room/cafeteria, and a four-room apartment for a visiting scientist.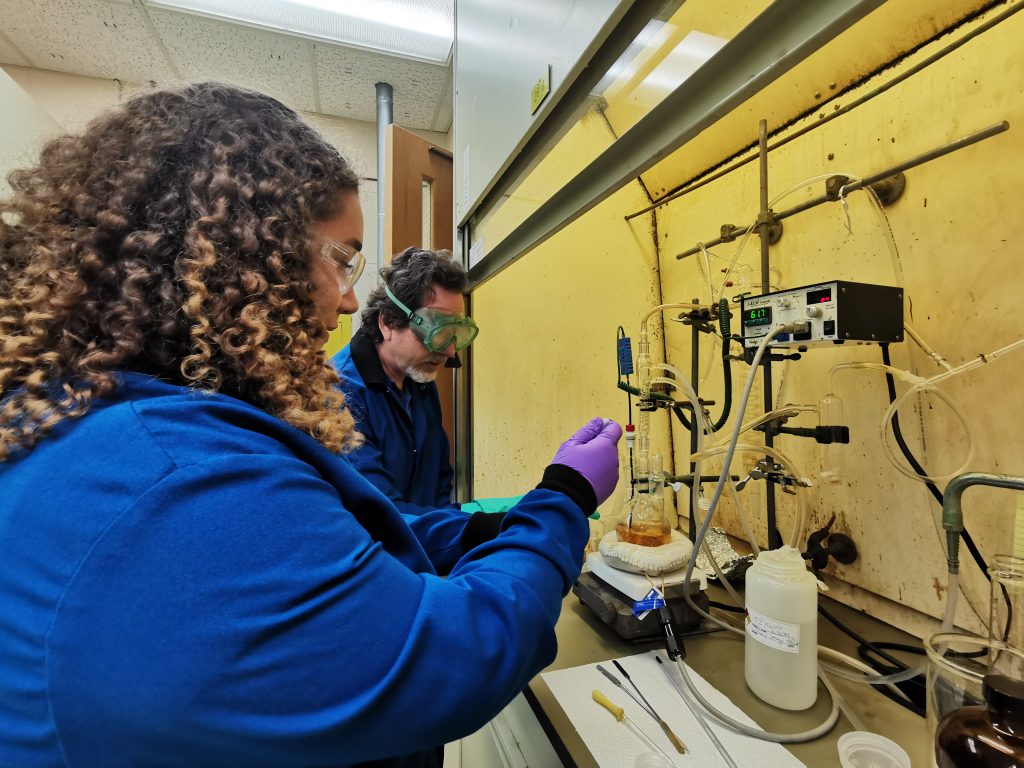 In 2015, on account of changes in funding that made it difficult to secure essential government contracts, the Michigan Molecular Institute ceased operations. That same year, however, Michigan State University stepped in to continue the research activity of the site, while establishing a new STEM education center at  the historic St. Andrews Laboratory.  Today, community-engaged K-12 STEM education and advanced research coexist in the facility.  This unique juxtaposition of capabilities is made possible through the support of the MSU Office of the Vice President for Research and Innovation and the generous financial support of the Herbert H. and Grace A. Dow Foundation, the Dow Company Foundation, the Rollin M. Gerstacker Foundation, and the Charles J. Strosacker Foundation. 
"The chemistry faculty at MSU St. Andrews have a great depth of experience in process chemistry, polymer chemistry, and materials science, developed through careers at Dow Chemical Company and the Michigan Molecular Institute," explains Charles Hasemann, Ph.D., Associate Vice President for Innovation and Economic Development at the Michigan State University Innovation Center. "Over time, the chemistry projects at the site have evolved, and today, MSU St. Andrews chemists are engaged in a variety of projects that support various companies and industries." 
Both for-profit and not-for-profit companies of all sizes may benefit from MSU St. Andrews' expertise in research and development and analytical testing, applied to a vast array of industrial applications, such as catalysis, process development, polymer synthesis, and materials characterization. St. Andrews projects include companies developing process chemistry for their first product, those planning their first full-scale production facility, and those with a decades-long history of specialty chemical production for major clients.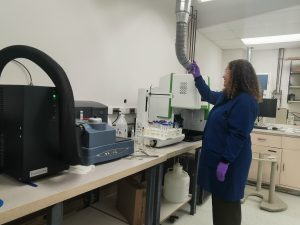 "MSU St. Andrews is well-equipped for small-to-medium-scale synthetic organic and polymer chemistry in seven chemistry laboratories, with two additional laboratories dedicated to mechanical properties testing and three-dimensional printing," Hasemann shares, noting that those companies seeking larger-scale resources may consider partnering with the MSU Bioeconomy Institute which helps clients quickly and cost-effectively accelerate new specialty and bio-based chemicals by taking their technology from the lab bench to the pilot plant in preparation for successful manufacturing. 
MSU St. Andrews features an extensive collection of state-of-the-art analytical equipment, including a new 400-MHz nuclear magnetic resonance spectroscopy, differential scanning calorimetry, inductively coupled plasma optical emission spectrometry, gas chromatography, Fourier-transform infrared spectroscopy, high-performance liquid chromatography, and more.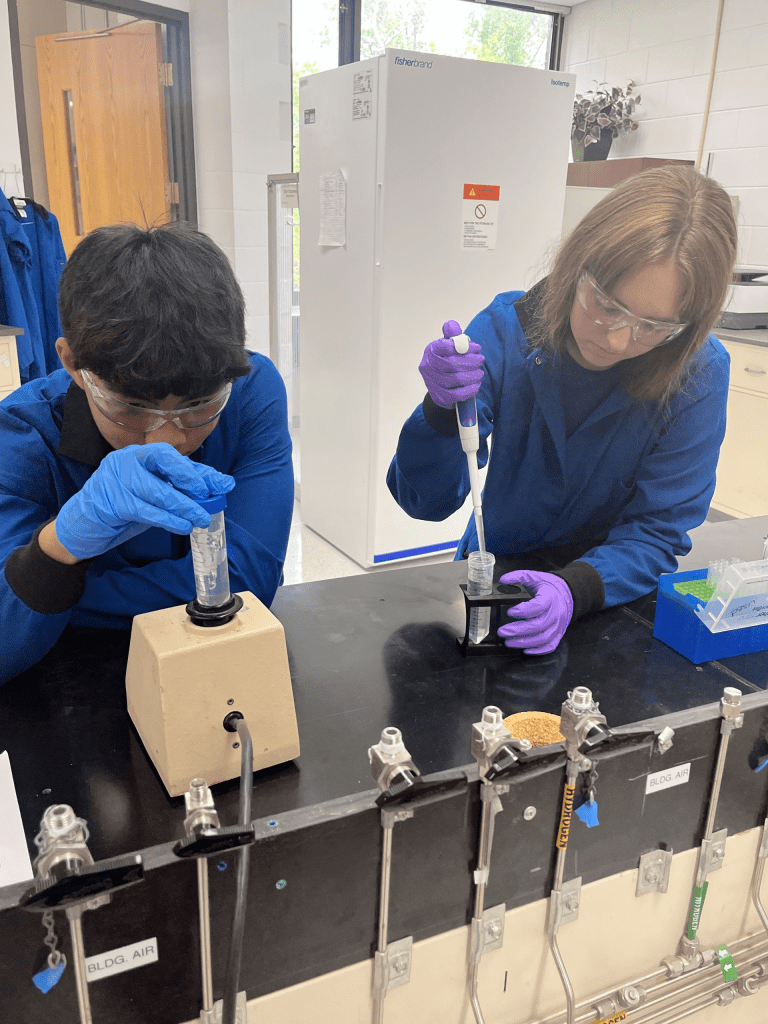 Since 2016, as part of its seven-week-long Summer Research Program, MSU St. Andrews has also continued to offer hands-on, in-depth research internships to exemplary Great Lakes Bay-area rising high school juniors and seniors interested in investigating real-world problems, opportunities, and applications—under the direction of a Michigan State University preceptor—related to chemistry, engineering, environmental science, materials science, sustainability, and three-dimensional printing as well as possible careers in science, technology, engineering, and mathematics. The research experience culminates in a series of poster presentations delivered by students and attended by family, friends, preceptors, and community members. 
The titles of this summer's projects were "Do Bees Dine with Their Neighbors? Analysis of Bee Pollen by Light Microscopy," "Evaluation of Phase-Transfer Catalyst for the Synthesis of Benzo-15-Crown-5 and 5-Acetoxymethylfurfural," "New Organic Chemistry for Redox-Flow Batteries," "Three-Dimensional-Printed Biomaterial Scaffolds for Tissue Engineering," and "Valorizing Food Byproducts: Unlocking Biomedical Potential." 
MSU St. Andrews is also home to the Axia Institute, a premier research and education center dedicated to developing effective and sustainable solutions to improve public and private value chains, and MSU Extension's 4-H Science, Technology, Engineering, and Mathematics educational programming for school-age children hailing from the Great Lakes Bay Region. While immersed in experiential, inquiry-based learning that fosters problem-solving, critical-thinking, and decision-making skills, K–12 students are encouraged to make observations, ask questions, design solutions to problems, test ideas, and discover answers while exploring and learning about the world. 
From contract chemistry for businesses to educational programming for students, and everything in between, all activities conducted at MSU St. Andrews support Michigan State University's mission of research, teaching, and service outreach and advance its efforts to promote the economic development and vitality of Michigan and beyond.
About the MSU Innovation Center: 
The MSU Innovation Center is dedicated to fostering innovation, research commercialization, and entrepreneurial activities from the research and discovery happening across our campus every day. We act as the primary interface for researchers aiming to see their research applied to solving real-world problems and making the world a better place to live. We aim to empower faculty, researchers, and students within our community of scholars by providing them with the knowledge, skills, and opportunities to bring their discoveries to the forefront. Through strategic collaborations with the private sector, we aim to amplify the impact of faculty research and drive economic growth while positively impacting society. We foster mutually beneficial, long-term relationships with the private sector through corporate-sponsored research collaborations, technology licensing discussions, and support for faculty entrepreneurs to support the establishment of startup companies.   
Is your company interested in partnering with MSU St. Andrews for research and development or analytical testing? Click Here.