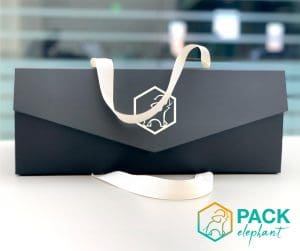 Pack Elephant, a boutique gifting platform featuring gems created by underrepresented artisans, is making it easy to find and buy handcrafted products from small business owners and local craftsmen. They work primarily with enterprise buyers who are committed to sourcing intentionally for corporate events, such as conferences.
According to its website: "Intentional Gifts Should Be Easy."
Winsome Kirton, founder and CEO of Pack Elephant, is an artist by trade with a degree in visual studies. As a black woman, she's experienced firsthand how difficult it can be for makers to achieve high volume sales, especially with limited access to enterprise-level buyers. Her career in advertising provided the exposure she needed to understand how brands communicate their values such as supporting diversity and inclusion and women in leadership by ways of giving to employees. However, they didn't know where to find meaningful gifts. Pack Elephant bridges that gap.
Kirton moved to west Michigan with her husband in 2017 from New York City. She knew very few people in Michigan, and the MSU Innovation Center helped her gain the connections she needed to begin fundraising for her business.
"Starting a business is difficult to do when you don't have relationships," Kirton explained. "So having these relationships has been critical."
Kirton applied for the Business Accelerator Fund grant through the MSU Grand Rapids Innovation Park, which is a partner of the MSU Innovation Center. Her application and resume were so impressive, she was offered a job as an Entrepreneur in Residence at the Innovation Park.
Kevin McCurren, commercialization program director at Gateway Grand Rapids, helped Kirton obtain the Business Accelerator Fund grant through Lakeshore Advantage.
"She's a really talented lady and she's very unique in the Grand Rapids area," McCurren said. "Hopefully she's going to be hanging around.  Part of our job is to find talent and make it easy for that talent to stay in area."
Funds for this initiative were provided by the 21st Century Jobs Fund, a Michigan Strategic Fund (MSF) program designed to accelerate the growth and diversification of Michigan's economy. The Michigan Economic Development Corporation (MEDC), a public body corporate between the state and local economic development organizations, provides administrative support for the 21st Century Jobs Fund. MEDC markets Michigan and provides the tools and environment to drive job creation and investment.
To learn more about Pack Elephant, visit its website. For more information on the 21st Century Jobs Fund Initiative, visit the MEDC website.