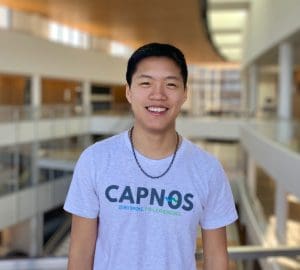 This year's Ian Gray Scholarship recipient is working to save lives with a device he created that replicates a traditional vape — minus the smoke, nicotine and charge. Brendan Wang, a junior in MSU's Eli Broad College of Business, is dedicated to helping solve our society's vaping epidemic.
"I've seen the first-hand effects that nicotine addiction and vaping has had on people, especially college students, and I knew I had to come up with a solution," Wang said. "I discovered a sense of purpose in helping other people live happier, healthier lives with a cleaner, greener planet in mind."
That instinctive nature not only helped Wang get ahead in the entrepreneurial process, but also led to the development of a small, transportable and sleek device that has the capacity to change the lives of millions of nicotine users across the world and become the next global anti-smoking device. With the help of the Ian Gray Scholarship, Wang and his team are one step closer to achieving this goal.
"When I first found out I received the scholarship, I felt gratitude and disbelief. I'm just grateful for everyone, and I've been so inspired by the entrepreneurs around me," Wang explained. "I've looked up to my peers pursuing their academic careers as well, and I just thought, 'wow, out of so many extraordinary people, I am so grateful to receive this award.'"
Scholarship supports passion for entrepreneurial pursuit
Ian Gray, for whom the scholarship was named, spearheaded the creation of the MSU Innovation Center and served as vice president for Research and Graduate Studies at MSU until his retirement in 2012. Each year, the scholarship recognizes and supports one innovative undergraduate student who has demonstrated exceptional interest, aptitude and passion for the pursuit of entrepreneurial opportunity and education.
Wang's definition of an entrepreneur is certain. "An entrepreneur is someone who solves a problem in a creative, innovative manner," he said. "I give it that broad definition because there are those who want to be an entrepreneur for financial gain, but what new things are you creating or solving that's not just the status quo?"
An early start
Wang's entrepreneurial route began as a high school senior on a path of helping others live happier, healthier lives through the successful launch of his first company, Boka Bands.
These bands were created to wear on your wrist and tailored to each individual who wore them by attaching personal goals to the bracelet.
As he transitioned into the college setting at MSU and pursued a growing interest in the supply chain field, Wang became even more passionate for going the extra mile to help others.
It was at this point that Wang shifted from Boka Bands to the creation of CAPNOS® and its commitment to providing a better, cleaner alternative to vaping. Derived from the Latin word acapnos, CAPNOS means smokeless or without smoke.
The CAPNOS Zero is designed to satisfy the behavioral urges of vape users by utilizing only air accompanied with flavored extracts to provide that desired full-hit sensation.
Promising findings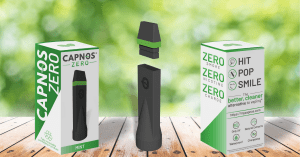 The results of the initial prototype tests found a 50 percent reduction in vaping within the first week. Users went from one nicotine pod a day to one a week, and some of the test-run users quit entirely.
One prototype tester in particular, MSU senior Brianna Waggoner, was particularly impressed with the effects of CAPNOS.
"I was stunned with how well it helped me cut down on my vaping in just the first few days," Waggoner said. "The product is fantastic because when I felt the need to hit my vape, I would just pull out the CAPNOS to satisfy the urge of hitting something."
Through the creation and production of CAPNOS, Wang and his team have worked closely with the Burgess Institute for Entrepreneurship and Innovation and the MSU Innovation Center.
"Brendan started in our program with an idea and we walked him through our discover/launch process at Burgess and he now has his prototype finalized and is close to having his company/product out to market," said Paul Jaques, managing director for Venture Creation at Burgess. "He has hustled his way through starting his startup and love to watch the progression on what he has done with it. This award is very well deserved."
Financial support paves way
The scholarship provides Wang with $2,000 per semester to apply toward student expenses.
"As soon as I met Brendan – I knew that our team had picked the right person to receive this scholarship," said Charles Hasemann, MSU's assistant vice president for Innovation and Economic Development. "Brendan not only has the passion and drive to bring a product to market that will really make a difference in the world, but he has the winning attitude and exceptional people skills that will serve him well as he ventures into his professional career after college. CAPNOS may or may not be the product that becomes Brendan's career – but the skills he is learning on this journey will set him up for success – wherever his career journey takes him."
'Wealth of resources' at MSU
Wang explained how funding helps turn ideas into possibilities.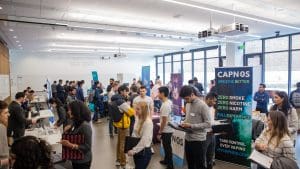 "We've won nearly $25,000 just from pitch competitions and awards, and it's really provided a lot less stress on myself financially," Wang said. "Not having to pursue angel or venture capital funding is also a plus as it takes away time from the business itself."
Wang holds high expectations for addressing the global issue of smoking and vaping.
"Hopefully, CAPNOS can be this household name across the globe that makes an impact. I want to see CAPNOS acquired by a medical device company one day," he said.
Wang emphasized that the success of CAPNOS also stems from his amazing team members: Jacob Roach, a current MSU student, and Alec Cherrin, a recent MSU graduate.
As for his advice to other MSU entrepreneurs looking to change the world, Wang emphasized utilizing the university, and all that the Spartan community has to offer.
"MSU has a wealth of resources, educators, connections and people who want to help," he said. "If you're thinking about starting a business, do it now."
See Wang's pitch about CAPNOS here, and stay tuned for their product launch coming soon.