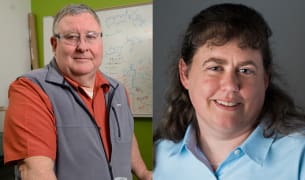 MSU professors of pharmacology and toxicology Edmund Ellsworth and Karen Liby were recently awarded a Targeted Support Grant for Technology Development (TSGTD) – a grant that will provide funding to support their research to enhance cancer treatments.
This grant provides funding for the enhancement, optimization, and development of selected technologies that have commercial potential, as identified by MSU technology managers. It's intended to accelerate technology development and commercialization opportunities, including licensing, marketing, new company creation, and other business development efforts.
The Liby and Ellsworth (MSU Medicinal Chemistry Facility) labs in the Department of Pharmacology and Toxicology have been working together for more than three years.
"We have identified a series of compounds that favorably modify the immune system to treat lung and other types of cancer," Liby said. "Our technology has the potential to extend the lives of patients with cancers that have been especially challenging to treat."
Anupam Jhingran, technology manager at the Innovation Center, manages technologies in the areas of Life Sciences from their initial disclosure through intellectual property protection, marketing, negotiation, and execution of license agreements.
"Recent progress in the anticancer drug discovery programs has renewed the interest of venture capitalists and pharma industry in this long-pursued target," Jhingran explained. "We, therefore, believe that Dr. Liby and Dr. Ellsworth's technology is very well-timed and aims to uncover critical knowledge needed to succeed."
For Ellsworth and Liby's efforts, they received Category C funding of the TSGTD Award. This specific category is focused on more complex technical projects by MSU inventors and provides anywhere from $40,000 to $75,000 to support their research.
Karen Studer-Rabeler, statewide T3N mentor-in-residence, contributed to the development of the funded project. The T3N program is a collaborative initiative of Michigan research institutions and the Michigan Economic Development Corporation to support technology transfer excellence in the state.
The TSGTD program reflects a joint commitment by the Office of Research & Innovation and the MSU Foundation to support MSU Technologies and other business units within the MSU Innovation Center. These funds help fill the gap between typical academic funding for fundamental research and the uptake of mature innovations by investors or companies.
"We now have an opportunity to advance this technology towards commercialization," Ellsworth said. "The collaboration has been productive, and we are delighted to be working with MSU Technologies."