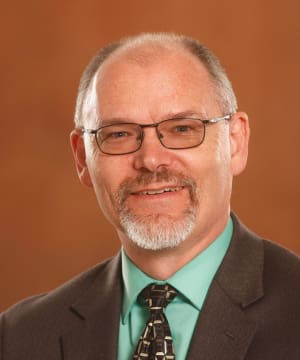 Joseph Affholter has joined the MSU Innovation Center team as the Commercialization Program Director Michigan Translational Research and Commercialization (MTRAC) AgBio Innovation Hub.
Affholter is an experienced entrepreneur, scientist and technology commercialization specialist. As part of the Ag Bio Innovation Hub, he leads the outreach, education, communication and commercialization efforts associated with the MSU MTRAC program.
"I love interacting with both the people and the ideas that drive technology and entrepreneurship forward," Affholter said. "This includes a wide range of interactions with inventors, entrepreneurs, potential customers and investors to facilitate the commercialization of leading-edge technologies."
Affholter has been an active member of the mid-Michigan entrepreneurial ecosystem for decades. Before coming to MSU, Affholter was the Herbert H. and Grace A. Dow Entrepreneur-in-Residence at Saginaw Valley State University, a Dow Chemical research scientist and a full time professor of Entrepreneurship at Central Michigan University. He is also a co-founder, director and former senior executive of GANTEC Inc., an agricultural life science firm in Midland, Michigan.
"I am passionate about the need for, and the possibility of, creating a robust technology and entrepreneurial startup ecosystem in Michigan," Affholter said. "I believe Michigan is at its best when it carves out its own path, based on its own realities, resources and strengths, and avoids the pitfalls of trying to copy other economic regions."
Through his Michigan-based consulting and innovation firm, Terrestria LLC, Affholter has been involved in leading and advising technical, corporate and startup leadership teams for more than 20 years.
Affholter is a named inventor on more than 22 patents, and has been involved in developing platform technology innovations in the biomedical, agriculture, chemical and energy industries.