Media Contact: Tracy Henion, ander1ta@msu.edu, 517-899-8130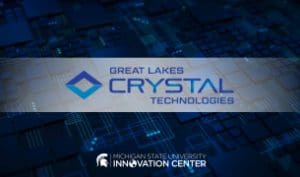 Michigan State University has entered into a license agreement with Great Lakes Crystal Technologies (GLCT), a high-tech startup in Michigan's capital region.
The license agreement covers a portfolio of issued and pending patents invented by MSU scientists and engineers in collaboration with their scientific colleagues at the MSU-located Fraunhofer USA Center for Coatings and Diamond Technologies CCD.
GLCT is a spin out of the world-class diamond research collaboration between MSU and CCD. GLCT's mission is to become the leading supplier of high-performance diamond materials for advanced, non-gemstone applications. These applications include x-ray diffraction optics, x-ray detector arrays, intra-cavity laser optics and quantum technology applications.
Diamond technology has the potential to make positive changes in numerous fields, including magnetoencephalography, where diamond-based quantum sensors can be used to map the magnetic field distribution of a brain, x-ray-based cancer therapies and improved computer capabilities.
"GLCT is excited to take license to innovative diamond manufacturing technologies developed by the world-class diamond materials collaboration between MSU and CCD," said Keith Evans, president and CEO of GLCT. "This is an important step for GLCT and positions the company to enter the market for high-performance diamond materials which represent an important platform materials technology to support broad based benefits across a growing number of exciting applications."
Each of the inventions covered by the licensed patent portfolio were invented or co-invented by GLCT co-founder and technical advisor, Dr. Timothy Grotjohn, who is one of MSU's leading diamond materials and device scientists and serves as director of research for CCD.
The MSU Innovation Center is responsible for protecting and creating corporate relationships to commercialize University inventions.
"MSU in collaboration with Fraunhofer USA is a leader in developing innovative diamond technologies," said Ray DeVito, Technology Manager at the MSU Innovation Center. "This license to GLCT will provide an important commercial outlet for this technology. This is a world class diamond-based technology that will surely lead to many important product opportunities."
For more information about GLCT, visit the website.