Collaborative support fuels diamond growth
MSU's entrepreneurial ecosystem amplifies tech transfer potential for startups
Validation is a great motivator.
External confirmation that your work has potential can offer a valuable confidence boost.
And when it comes in the form of grant funding and operational support for a nascent technology, it fuels momentum in meaningful scientific research.
The diamond technology research and development being done at Great Lakes Crystal Technologies started in August 2019 as a spin-out of the world-class diamond materials and device collaboration between Michigan State University and the Fraunhofer USA Center for Coatings and Diamond Technologies, located on the MSU campus.
GLCT's founders are Dr. Timothy Grotjohn, a professor in MSU's College of Engineering, and Dr. Keith Evans, a veteran of the post-silicon semiconductor industry who has deep experience in bringing new semiconductor materials to market.
Grotjohn, MSU Innovation Center's 2021 Technology Transfer Achievement award winner, holds nine patents related to diamond synthesis and processing.
Diamond potential
Diamond is grown in MSU labs for use in semiconductors and other advanced electronic applications sought after by entities such as the U.S. Department of Energy.
That work is crucial because diamond material has an incredibly high thermal conductivity – much higher than copper – making it ideal for use in semiconductors.
"When you use a diamond in a photon or proton beam, it holds up. Most other materials would be destroyed," Grotjohn said.
"We've worked on diamond for 30 years or more at MSU. It feels good to have all that work produce papers and conference talks, but to move it into the commercial sector means it will have an impact in the world."
Before GLCT was started, MSU helped Grotjohn and his colleagues explore whether or not the idea of a company focused on diamond technology was even viable. Through MSU's and Spartan Innovations Entrepreneur-In-Residence program, Evans was matched with Grotjohn to serve as the CEO of the startup company.
In his EIR role, Evans worked with the MSU Foundation, Spartan Innovations, MSU Technologies, and Red Cedar Ventures to commercialize advanced technologies developed at MSU.
Or, more simply: "I focused on the tech side and Keith did the paperwork and budgets," Grotjohn said.
But while the diamond technology research had been going on for decades and was proving to have significant market potential, that didn't mean evolving into a company was a given. With funding support from Spartan Innovations, GLCT was motivated to reach essential business milestones to continue to grow.
Investing toward success
Thanks to the support from Spartan Innovations and Red Cedar Ventures, Evans could focus on preparing pitches to investors and seeking grant support from external funders.
Red Cedar Ventures is the investment arm of the MSU Foundation, focused on growing startup companies created by MSU faculty, staff, and students. It sets milestones to help accelerate the commercialization of startups, creating opportunities for MSU technologies, ecosystem partners, and the state of Michigan.
"Red Cedar Ventures motivated us to seek out SBIR and STTR grants," Evans said.
Those are highly competitive Small Business Innovation Research and Small Business Technology Transfer grants from the federal government that encourage domestic small businesses to engage in federal research and development with the potential for commercialization.
"Great Lakes Crystal Technologies has won more SBIRs than any company that's gone through the Innovation Center ecosystem," Evans said. "And we met more milestones with Red Cedar Ventures than we could cash in on. I'm a very independent guy, but I learned that when good advisers advise you, you better listen."
Those advisers came from both Spartan Innovations and the MSU Foundation, working in concert to create turnkey solutions for entrepreneurial faculty with startup ideas.
Brad Fingland, director of venture creation and physical sciences, for the MSU Innovation Center, calls GLCT the poster child for using every resource available to them.
"They've been able to leverage all the resources we have at the university," Fingland said. "We funded a postdoc who acted as the principal investigator for the SBIR and STTR grants, we sponsored their CEO, Keith Evans, and they're also a tenant in one of our lab incubators. They've taken a lot of the programs we offer and used them to the fullest degree."
To date, GLCT has won more than $1 million in SBIR and STTR funding, and it's now partnering with a multi-billion-dollar company to commercialize high-tech diamond technologies. Grotjohn and Evans are diligently working toward taking decades worth of research from MSU into the marketplace.
Evans, who has worked with startups that spun out of research at other universities, said he's impressed by MSU's web of support.
"I've never seen it done better," he said. "I've never felt the well-aligned set of players and a startup ecosystem the way I have at MSU. My experience was the opposite – everybody was fighting to get resources. MSU does a fabulous job. I feel so fortunate to have been connected to the Entrepreneur-In-Residence program."
Rich Chylla, Executive Director of MSU Technologies agreed.
"This is another great example of MEDC university programs accelerating commercial success in technology transfer," Chylla said. "The diamond technologies at MSU benefited from both an ADVANCE proof-of-concept grant to move the technology forward while Keith Evans work as an Entrepreneur-in-Residence was partially supported by the Tech Transfer Talent Network (T3N) program."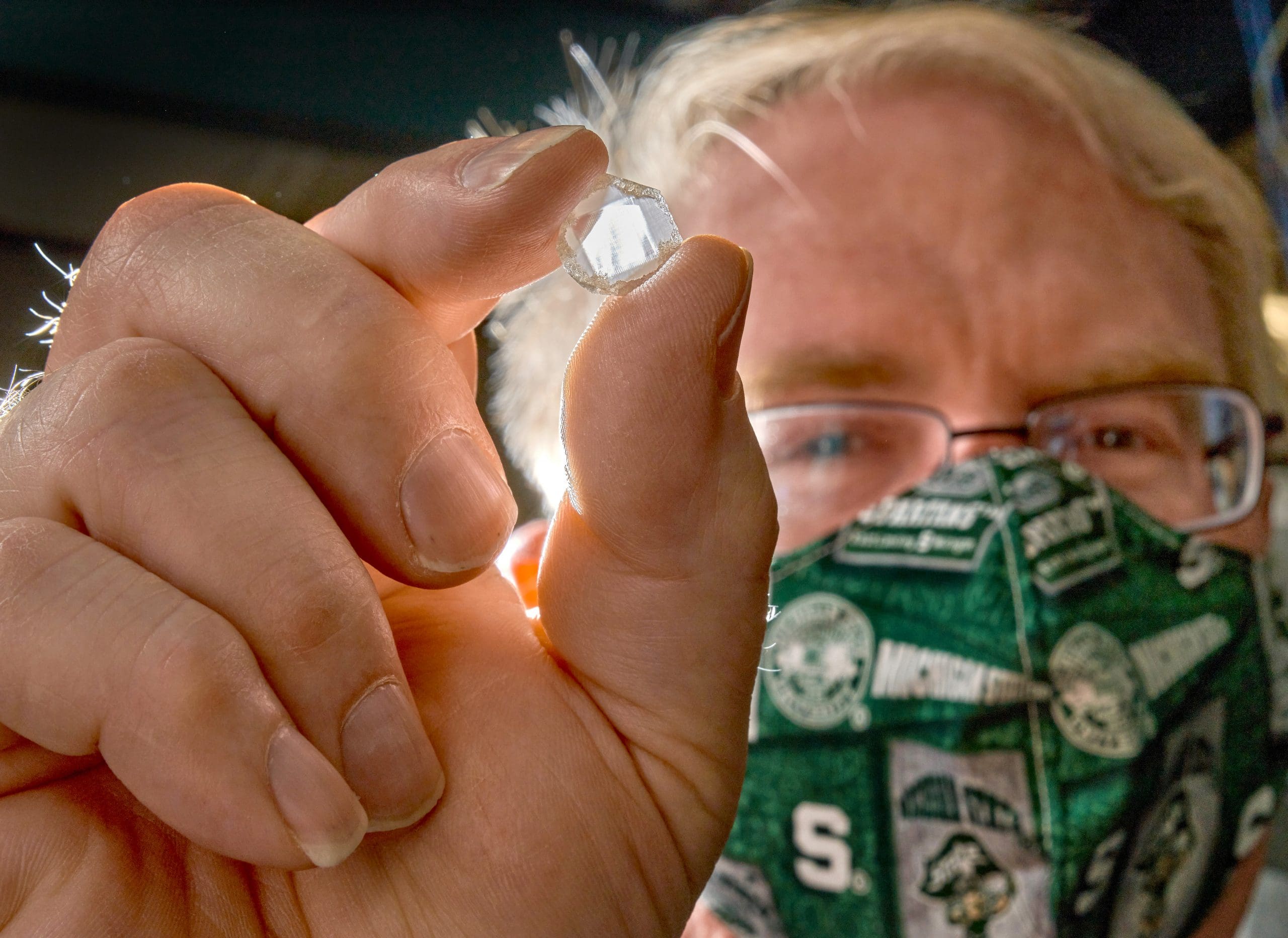 Moving to market
Ray DeVito is a technology manager with MSU Technologies, the intellectual property and tech licensing arm of the MSU Innovation Center. His work focuses on providing a means to advance university research and development into a commercially viable space in the market.
"With diamond material, there is a pretty broad sweep of technologies involved," DeVito said. "It's an interesting collaboration."
Part of that collaboration is with Fraunhofer, a German research institute with U.S. locations, including one on the East Lansing campus.
The Michigan State University Fraunhofer USA Center for Coatings and Diamond Technologies provides innovative research and development services based on its expertise in coating and diamond technology. Grotjohn is a senior scientist in the center, working on the modeling, design, diagnostics and applications of plasma-assisted materials processes and processing machines.
"It takes a good depth of expertise to do this level of work in this field and make it viable," DeVito said. "If it was easy, everyone would grow diamonds in their basement."
John Albrecht is the executive director of MSU's Fraunhofer Center. He said MSU's work in diamond technology is unique.
"I deal with a lot of universities around the country, and most have some form of research and development support," Albrecht said. "But MSU is very faculty-friendly when it comes to encouraging these commercialization opportunities and setting up companies. These startups can have an employee who stays on the Spartan Innovation payroll until they get their first SBIR grants, they set up space for their headquarters, they set them up with a leadership team, a CEO.
"They give them the opportunity to succeed."
The diamond technology project is about halfway to its next milestone of an additional $1 million in financing, and the team hopes to demonstrate minimum viable products this year.
"The MSU Foundation and the variety of supports we give this work helps move basic research into a more directed development program for commercially viable application," DeVito said. "To go from the theoretical to the actual, you start in the lab with a team of Ph.D.s, but you need a company with technical expertise to scale it up for effective mass production.
"This work has so much potential."