The Doug Meijer Medical Innovation Building is a monumental development for the city of Grand Rapids. Inside, groundbreaking research and discovery will help drive innovation in the health care sector. Outside, human lives will be improved significantly thanks to the work of tenants like Bold Advancement Medical Future (BAMF) Health, who will provide world-class health treatment for various types of cancer and diseases using advanced medical equipment.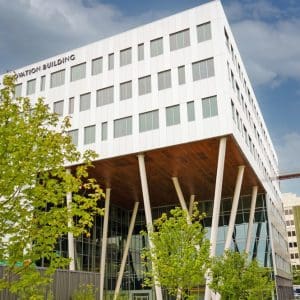 Overall, together with the other buildings that make up the Grand Rapids Innovation Park along the city's Medical Mile, the Doug Meijer Medical Innovation Building will help contribute to more than $300 million in economic impact to Kent County each year.
To ensure that the facility operates at its highest level, thoughtful planning is required. This includes strategic foresight throughout the building's life cycle, including everything from real estate development to construction and property management. Rockford Construction has played a key role in this entire process, but it is the company's property management team that will help carry the Doug Meijer Medical Innovation Building into the future. And it all starts with crafting a solid foundation.
"We're really helping to create this space," said Monica Steimle-App, Rockford's executive vice president of real estate development and property management. "Everyone involved — our team, the owners and the tenants — is coming into this together. That helps build a solid foundation and a really close bond among all parties."
Rockford Property Management will provide full property management services for the building, including leasing, maintenance and asset management. Much of the work to set the property up for success already has taken place, with the team working alongside Rockford's development and construction arms to render pre-stabilization management services. As the building approaches an open date for tenants in 2022, the focus will shift to day-to-day operations.
Providing top-tier property management is not possible without first assembling the right team. And as Steimle-App said, Rockford was intentional in selecting team members not only with ample experience and knowledge, but alignment with the goals and mission of those connected to the building.
"Our team consists of individuals who have diverse qualifications and knowledge bases," she said. "This is crucial because not all buildings, portfolios or tenant mixes are the same. Having that diversity – and coupling it with an understanding of the mission of the owners and tenants – allows us to collectively push forward and provide the best possible service as a team."
Collaboration is a critical component of the work that will take place inside the Doug Meijer Medical Innovation Building. To help maximize interaction among the businesses working inside, Rockford Property Management also is assisting in the development and management of the fourth floor Innovation Collaboration space. The work, which is being performed on behalf of Michigan State University, is powered by the SmartZone Local Development Finance Authority, which will support high-tech businesses operating within the space via annual funding.
Beyond the potential that exists within the Innovation Collaboration space, the Rockford Property Management team will provide significant value to the physical asset through its connections to the community.
"We are connectors — not only with what's going on inside the space, but with the broader community," Steimle-App said. "And while we're extremely proud of the property management services we provide, we also understand that we have the unique ability to bring people together, which leads to additional opportunities for our tenants and clients."
Rockford Property Management's efforts will serve as an extension of the work being performed by those inside, helping to catalyze innovation in a variety of industries that will build a better world for everyone.
This story was originally published in the Grand Rapids Business Journal