For most people, the quest for the perfect strawberry begins and ends in the produce aisle: perusing small towers of clamshell containers – plastic treasure chests of ruby-red fruit – to find the right one to take home and savor. 
But for Cholani Weebadde, associate professor and Plant Breeder for International Programs at Michigan State University (MSU), the journey began in 2000 when she left her home in Sri Lanka to attend MSU for graduate school and met Jim Hancock, professor emeritus in the Department of Horticulture in the College of Agriculture and Natural Resources. In the 20-plus years since first coming to campus, Weebadde's "Spartans Will" spirit and zest for strawberries has flourished.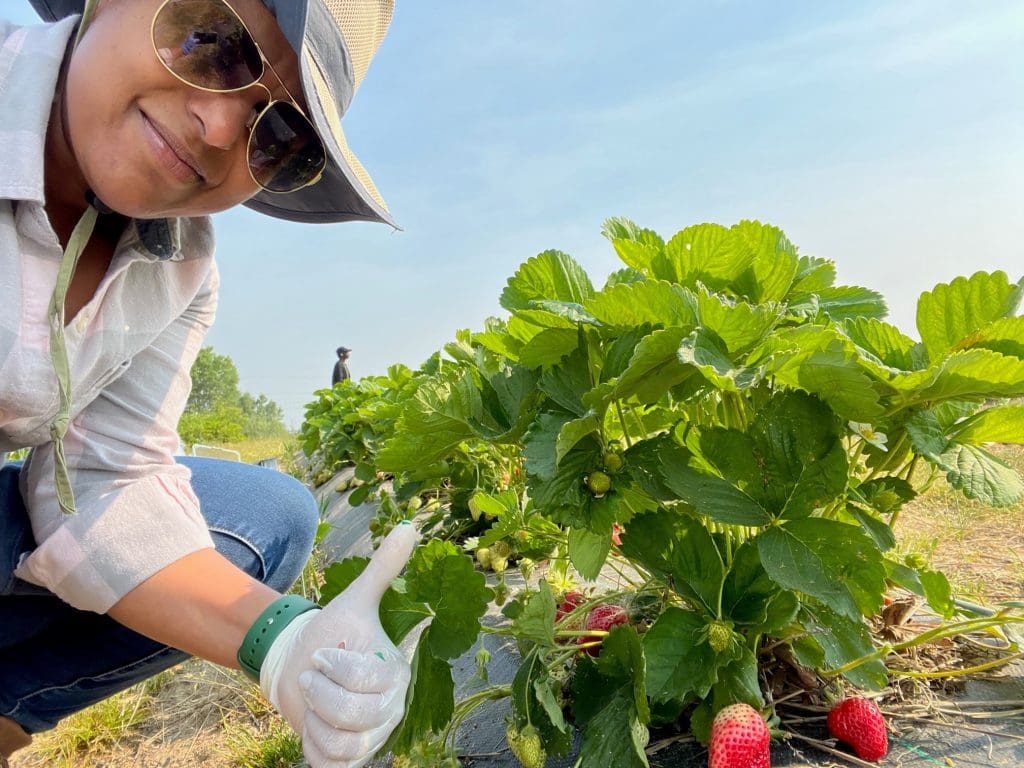 With an interest in plant breeding and no previous hands-on training, Weebadde was ready to get her hands dirty at MSU. As a graduate student in the strawberry breeding program, Weebadde became intrigued by Hancock's work exploring ways to improve upon the accidental hybridization of the cultivated strawberry by selecting the good traits in both progenitors and bringing them back together. Collaborating with strawberry breeders in the United States and Canada, Hancock collected the progenitor species across North America to develop a 36-genotype Supercore germplasm.
"They collected species with the best traits, and they started crossing them together to improve the germplasm," said Weebadde. "This is the background I learned when I grew up in Jim's lab. Although my project had nothing to do with that whole plan, whenever I went for meetings with him, he would introduce me to his collaborators and say, 'This is what we are doing.'
I was so excited about it."
Weebadde graduated in 2005 with a dual major in plant breeding and genetics and pursued work in international agriculture outreach activities at MSU for the next decade. She returned to plant breeding research activities with a different role at MSU when Amy Iezzoni, professor and Project Director of the USDA-Specialty Crop Research Initiative at the MSU Department of Horticulture, and Hancock reached out to her about becoming the Extension Team Lead for RosBREED, a USDA Coordinated Agricultural Project from the university's horticulture department that used marker-assisted breeding approaches to improve rosacea crops: cherries, peaches, apples, and, of course, strawberries.
"I got back in, and I thought, 'Wow! I missed this part of my life,'" Weebadde said. "I became even closer to the people [Jim] introduced me to when I was a graduate student because they were still involved in this larger project."
In 2015, Weebadde applied for a five-year appointment as the plant breeder for International Programs at MSU, which offered a research component and the agency to work with any crop she was interested in with any country worldwide. 
One of the globally important crops she decided to work on, of course, was strawberry, for which Weebadde's goal was to build upon Hancock's research and improve strawberries through various breeding objectives, which included increasing fruit size, improving flavor, and building up disease resistance.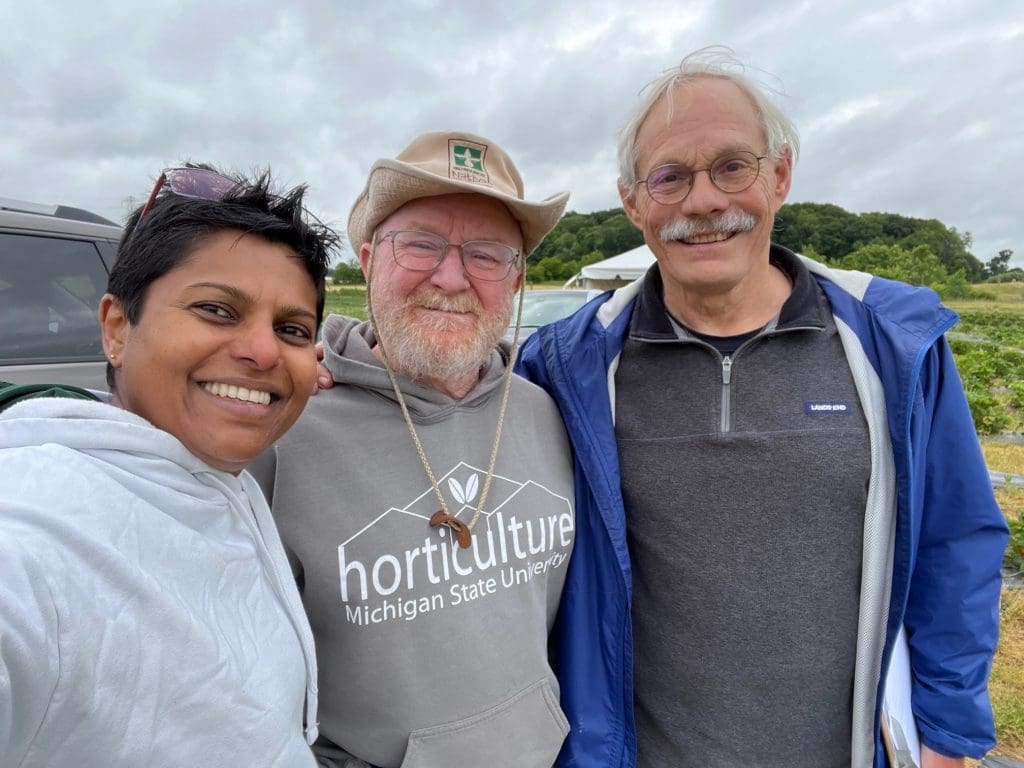 When a field of Hancock's trial strawberry plants was set to be removed in 2018, Weebadde sprang into action to save the advanced breeding lines as she was field testing some of those genotypes in Sri Lanka to see how well they performed compared to Michigan. "I was so worried I was going to lose this germplasm from MSU and won't get to work with them more than anything because I kind of grew up with them," she said. 
Without a lab, greenhouse, or field space of her own, Weebadde used her years of connections in the department to seek out available space on campus to keep the germplasm alive. Mitch McGrath, Adjunct USDA professor and sugar beet breeder, told Weebadde she could utilize a small greenhouse going unused at the time.
Using her breeding objectives as a guide, Weebadde took different germplasm from existing varieties and made over 140 different crosses. "I thought, whatever is flowering, I'm making the cross because I want to save this germplasm." Over 50 crosses went into the field in 2019.
A year later, Weebadde experienced some challenges with the project. Following the completion of her plant breeder position in International Programs, Weebadde got a 100-percent teaching appointment, meaning whatever research she wanted to conduct would have to be on her own time. 
Additionally, due to the pandemic, Weebadde and her graduate student were the only people allowed to go to the field. The fruit also couldn't be returned to the department for evaluation, but Weebadde got creative.
"We created these small labs in our kitchens to evaluate fruit. We would be in the field at 7 a.m. to harvest the fruit, my student would take the first batch home to evaluate, and I would harvest for another two hours. I would bring the fruit home and evaluate it until 2 or 3 a.m., and then the next day, we were back in the field at 7 a.m. I don't know how we did it. I think it was the adrenaline rush. But after two or three weeks of doing this, my family was so sick of the smell of strawberries in the kitchen."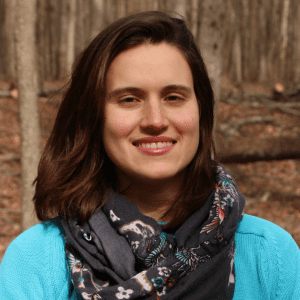 Weebadde continued to evaluate the crops in 2021 and 2022 and noted that some varieties were doing very well. However, Weebadde realized she didn't have enough funding to complete the work. That is when she contacted Julia Miller, a technology manager with the MSU Innovation Center. 
Miller works with MSU faculty and researchers in agriculture, natural resources, and natural sciences to protect intellectual property and engage in commercial partnerships to bring the technologies to market. By giving researchers like Weebadde and other plant breeders space to do the hard work of crossing, selecting, and trialing their new plant varieties, Miller helps find the best commercialization partners so the varieties can be sold and enjoyed. 
"We allow the plant breeders to focus on the important work of developing their new varieties, doing research, and teaching students while we can handle connecting with licensees and finalizing agreements," Miller said.
With her office handling the protection and licensing of plant varieties being bred at MSU, Miller has worked with Weebadde to identify potential trial partners and licensees for her strawberry portfolio.
"Dr. Weebadde inquired if there was a way to support her commercial yield trial due to its large size," Miller said. "The data generated by the commercial yield trial is very important for potential licensees, as yield is one of the most important traits for a new strawberry variety. We saw the great value in generating this data as potential licensees often require yield data before they want to trial or license a variety."
Miller assisted Weebadde in completing a Michigan Translational Research and Commercialization (MTRAC) AgBio Starter Award grant proposal to secure funding for the completion of the commercial yield trial. "Julia was amazing because she jumped in and said, 'This is exactly why they have these grants, to help faculty members take their research to the next level.' I do not know how we could have done the yield trial without it," Weebadde said.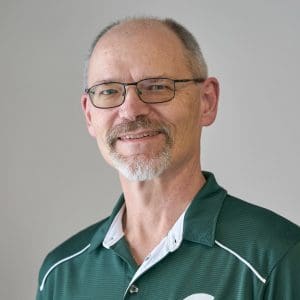 Joseph Affholter is the MTRAC program director at the MSU Innovation Center, where he helps oversee the MTRAC AgBio Innovation Hub – a key industry focus area for the university. As home to the second-most diverse agriculture in the country and a reliable source of freshwater, Michigan's AgBio industry contributes billions to the economy annually. 
The MTRAC program is supported by the Michigan Strategic Fund, with funds administered through the Michigan Economic Development Corporation. It is designed to help fund and translate early-stage technologies developed by Michigan's public universities and other nonprofit institutes, bringing them from the laboratory demonstration level to real commercial applications. Michigan is one of only a few states to offer this kind of applied research funding program. 
As MTRAC program director, Affholter and his team help the university researchers and technology managers move technologies developed at MSU toward commercialization, from field testing and implementation to production scaling. 
"It's what makes invention, in fact, innovation," said Affholter. "It becomes innovation when it is applied to a real problem that real people have and are willing to pay real money to solve. Innovation is a community activity; it requires community engagement to happen. This type of research is the foundation upon which the land grant universities like Michigan State were developed. It really is truly hands-on."
After securing funding through the MTRAC grant, the next hurdle was bandwidth: with only five members on her team and an acre-sized plot of land, who would harvest the yield trial in Summer 2023? It turns out the Spartans will.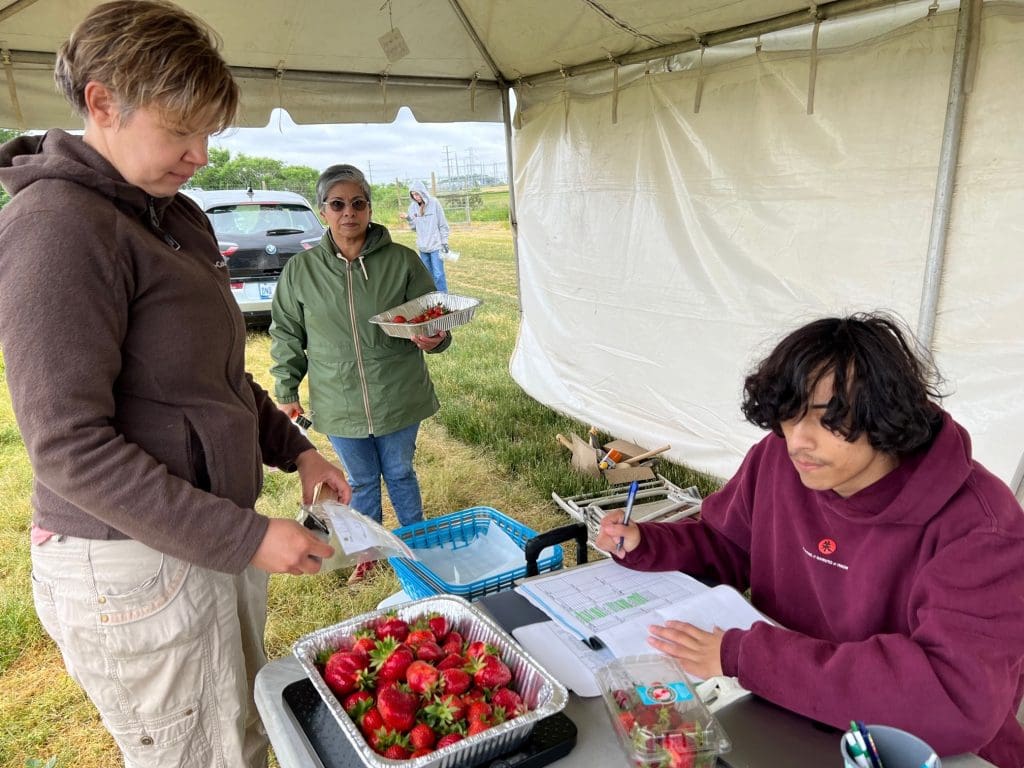 Weebadde put out a call for volunteers over emails to various departments across campus, reaching out to contacts she'd made on campus over the last two-plus decades. "We were going to do U-Pick but, even better, where we take the weight, and they get to take the fruit home." To save some of her MTRAC funds and put them toward paying her students, Weebadde also requested donations for used plastic clamshells to store the fruit.
"I got overwhelming support. Rather than buying plastic and throwing it away, we recycled whatever people had. Part of my office was filled with collected clamshells, and we used it and reused it." When she needed harvesting crates, Weebadde was also resourceful, reaching out to MSU's potato breeding program, whose harvest is in the late fall; members of the program were also on hand to help pick the fruit. 
As a passionate supporter of Weebadde's strawberry program, Miller also personally helped in the field as a volunteer – and got to share the fruits of her labor.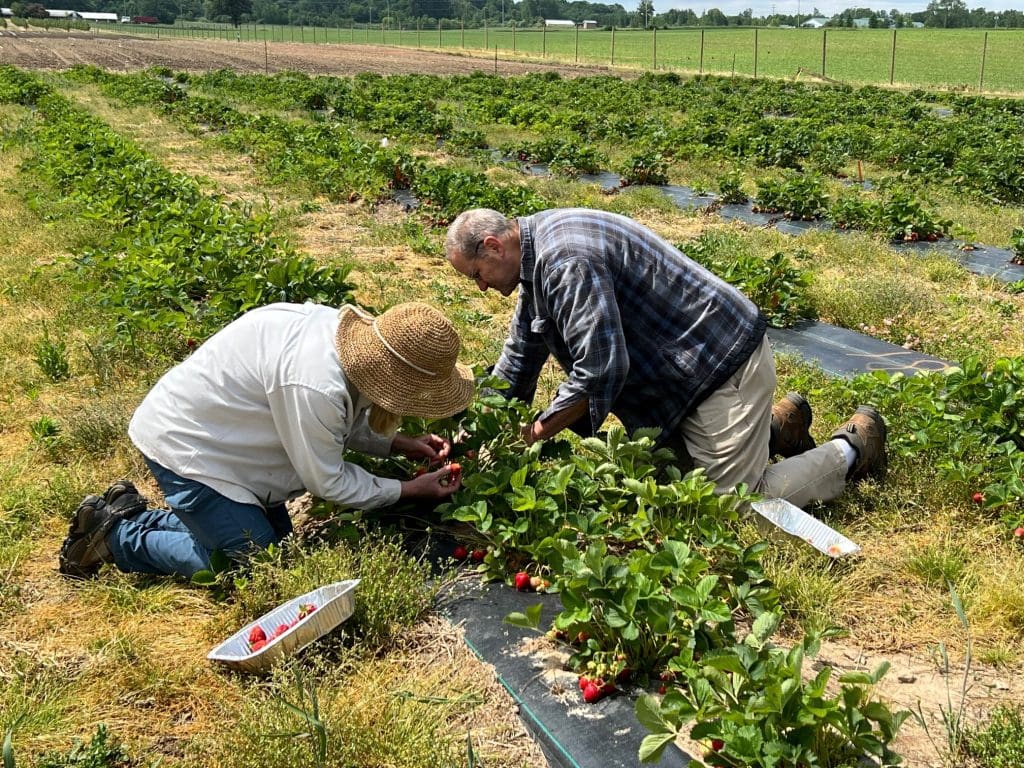 "I knew that this data was important for further commercialization activities, and I also wanted to see the field trial itself and taste some of the fruit," she said. "It was fun to pick the fruit and later share it with my family and friends. I even took three different varieties into my office so that my colleagues, who support all of the inventions and agreements that come through the office, had a chance to taste the fruit as well."
According to Miller, the commercial trial generates important data on the strawberry varieties' size, quality, and yield in a commercial production environment. "Yield is often the most important trait for a new plant variety, as most growers have a set amount of land and want to optimize the fruit produced on that land," she said. Fruit size is also significant as larger fruit decrease labor costs, and consumers prefer large, attractive, high-quality fruit with good flavor and sweetness.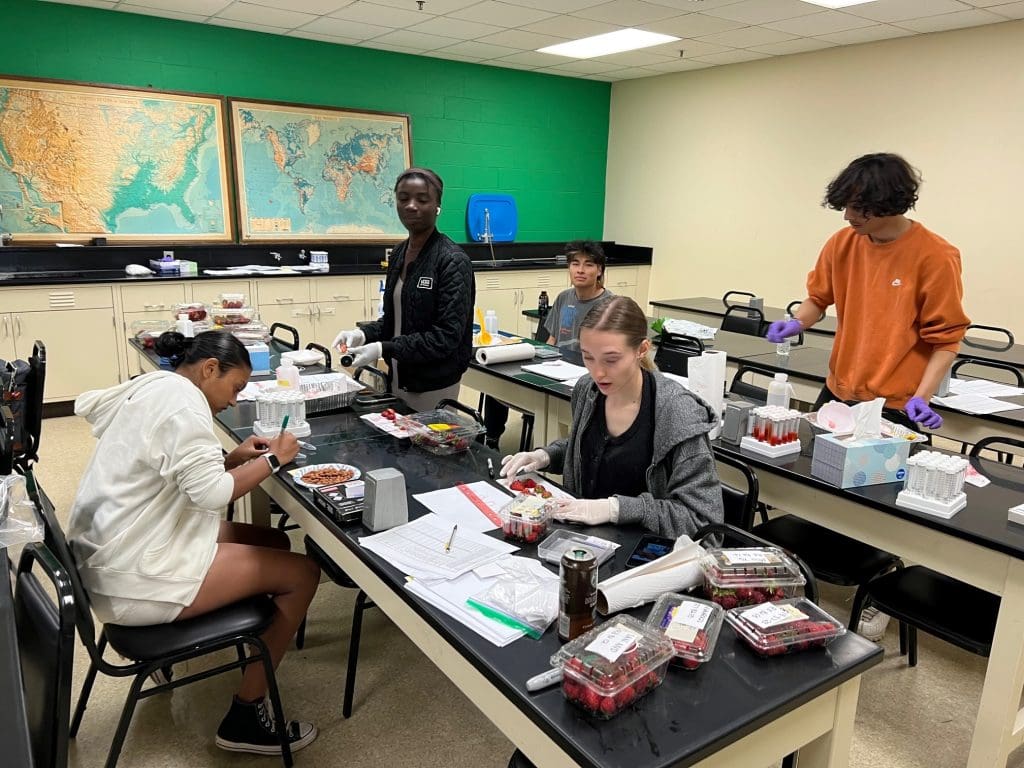 Following the yield trial and harvest, the next step is to get the plants into tissue culture to distribute them worldwide. But for Weebadde, who is busy developing an online master's program in plant breeding, the process will have to continue without her. "It is very sad for me because I love this research, but as long as I can get this material that I was able to protect all of this time to a safe home, I'll be happy that others can use it for breeding and benefit from it."
The legacy of the work, a torch she carried for her mentor Hancock, is sure to carry on. 
"You know the tagline: Advancing knowledge. Transforming lives? That is totally me to the word. I came from half a world away, and MSU molded me into what I am today. So, I felt like I had to give something back. We had some really good [strawberry] lines, and I'm hoping we could get at least a few of them out to the growers."
Affholter agrees that Weebadde's passion for discovery is what being a Spartan is all about.
 "Dr. Weebadde's effort is a great example of the Spartan spirit, reflective of MSU in its land grant institution statewide reach, but also reflective of the state of Michigan's innovation spirit. It's a state that embraces its industries broadly and enables their success deeply. That has been our story from the logging days through the early automobile to the advanced manufacturing systems that are animating the economy today. Part of that advanced economy in the state of Michigan is an advanced bio-economy that helps feed the world, fuel the world, and in many ways, develop [a sense of] community that extends around the world."
While Weebadde hasn't fully finished collecting data yet, the strawberry varieties will soon be available for trialing and licensing. If you want to learn more about the available varieties, contact Julia Miller at mill2034@msu.edu.