Anne Di Sante recently was appointed to the role of Executive Director of MSU Technologies, the tech transfer and commercialization arm of the MSU Innovation Center.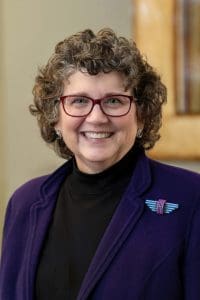 Di Sante served as the unit's associate director for the past decade, specializing in licensing and commercialization operations and programs. Di Sante and a team of six technology managers help manage MSU's invention caseload, from the screening process, to patenting, to the introduction into the market through a license to a company.
"Anne brings a depth of experience from her time at the University of Michigan, Wayne State, and Case Western," said Charles Hasemann, associate vice president for innovation and economic development. "She is a respected leader in the field and has been a serious asset to MSU ever since she arrived here in 2012. She has already articulated to me some great ideas for taking our technology commercialization practice to the next level, and I look forward to collaborating on those changes."
Di Sante said she is excited to take on her new role while continuing the important work of the MSU Innovation Center. Over the years, much has changed – for the better – in the tech transfer industry, Di Sante explained.
"Faculty are more entrepreneurial and interested in how the Innovation Center can help advance their research to create impact for the public," she said. "They surprise me every day… and the quality of technologies disclosed to us has really benefited from collaborations with labs inside and outside our university. After 35 years in this profession, I am still presented with challenges that require creative problem-solving to overcome obstacles and meet the goal of delivering public benefit with MSU technology."
Di Sante has an MBA in marketing, an M.S. in microbiology/immunology, and a B.S. in medical technology, all from the University of Michigan. She is an active member of the Association of University Technology Managers (AUTM), where she is a frequent speaker on a variety of technology transfer-related topics. In 2012, she received the President's Award for her outstanding and lasting contributions to AUTM.