Julia Miller has recently joined the MSU Innovation Center's team of technology managers. Specializing in the ag bio tech sector, Miller works with researchers in agriculture, natural resources and natural science to evaluate, protect and commercialize technologies.
After completing an undergraduate degree at Michigan State University along with a Ph.D. at Cornell University, Miller first joined the Innovation Center as a tech transfer fellow in 2020.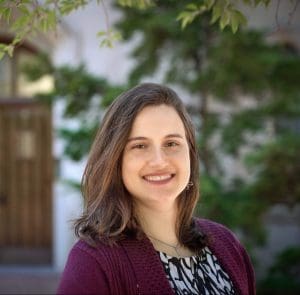 "I really enjoyed what I was doing here," Miller explained. "Working with all the professors and researchers and helping them commercialize their inventions was a great learning experience."
Technology managers help evaluate the commercialization potential of a technology based on factors such as intellectual property strength, market value, level of development, ease of implementation and timing.
Miller is passionate about her work. Most recently she helped develop the university's first licensing strategy of a red winter wheat.
Grown in the Midwest, this type of wheat is licensed for use across the United States and is primarily used for flour production. It can be found in cookie and cracker products.
"I like that every day I can work on something different: a new licensing agreement, talking to a professor about a new research project, or reviewing grant documents," Miller said. "It's really impressive to see the breadth of research that happens across campus."
Miller began her technology transfer career as an intern at the Center for Technology Licensing at Cornell University, focusing on technology evaluation, marketing and commercialization. She joined MSU at the start of the pandemic and said her colleagues have been solid mentors, making her transition from tech transfer fellow to tech manager seamless.
"My fellowship was an incredible experience that not only allowed me to meet my colleagues who I now work with but gave me a solid foundation to build my career on here at MSU," Miller added.