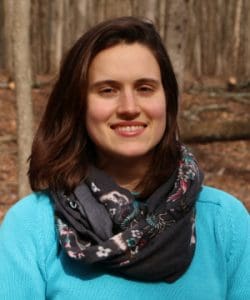 The MSU Innovation Center recently welcomed Julia Miller as a technology transfer fellow. After a long and rigorous journey, completing her undergrad at MSU and earning a Ph.D. at Cornell University, Miller has found her way back to East Lansing to pursue a career in technology transfer with MSU Technologies (MSUT), a unit under the MSU Innovation Center's umbrella.
As a technology transfer fellow, Miller will focus primarily on technology covering agriculture, natural resources and natural sciences. She is thrilled to be at MSU and eager to accelerate the progress of technologies on campus.
"I am so glad that I am a part of the MSUT team," Miller said. "I have already learned so much since I started in early September."
Within this position, Miller will work alongside MSUT colleagues Anne Di Sante and Tom Herlache to support researchers in the natural science fields. Miller hopes to gain a fuller understanding of the technology transfer process, with particular emphasis on drafting and negotiating agreements, marketing and licensing technologies, and working with patents and other forms of intellectual property protection. Miller began her career at MSU in 2010 and earned a dual degree in Genomics & Molecular Genetics and Plant Biology. She then attended Cornell University from 2014-2020 and received a Ph.D. in Plant Biology.
In the midst of the program at Cornell, she came across technology transfer and continued her studies geared in that direction. The connection between science, business and law interested Miller and eventually led to an internship program at the Center for Technology Licensing at Cornell University.
"We are thrilled to welcome Julia to the MSU Innovation Center," said Anne Di Sante, associate director of MSU Technologies. "It is a privilege to mentor her as she embarks down this professional road. Even after just a few months, Julia is making an impact on our efforts."
Outside of work, Miller spends the majority of her time outside. She is captivated by nature, specifically wildflowers. Her time is spent photographing unique flowers she comes across while hiking. Miller looks forward to visiting the Great Lakes and exploring hiking trails filled with rare wildflowers to develop her photography skills.
Returning to Michigan begins a new chapter full of challenges as well as learning experiences that will only enhance her interests in the technology transfer field.
"I have already gained amazing experiences that have been very useful to my professional development," Miller said. "I'm in great office, working with wonderful colleagues and researchers. This is the perfect place to complete a fellowship."