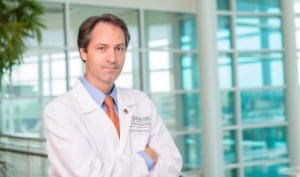 A cancer research company co-founded by an MSU professor has been acquired by the New York biotechnology firm Lodo Therapeutics Corp. in a move that holds the potential for the development of innovative drugs that treat cancerous tumors.
The acquisition of Hibiskus BioPharma was announced Sept. 3. Co-founded by André Bachmann of Michigan State University and Michael Pirrung of the University of California, Riverside, the company was established with support from Spartan Innovations and Red Cedar Ventures, both wholly-owned subsidies of the MSU Foundation.
Bachmann, a pediatrics professor and associate chair for research at MSU, College of Human Medicine, and co-founder Pirrung, a distinguished chemistry professor and drug researcher at UCR, discovered selective proteasome and immunoproteasome inhibitors that could potentially play a role in the treatment of a number of solid tumor cancers, based on preclinical studies conducted at MSU and the National Cancer Institute (NCI).
"Despite recent advances, far too many cancers remain poorly treated," Bachmann said. "We are delighted that the experienced and committed team at Lodo will now be overseeing their preclinical and clinical development."
How proteasome inhibitors work
Proteasome inhibitors can be used to kill tumor cells. Bachmann compared the proteasome to an office paper shredder. The paper is the protein and once it enters the shredder (the proteasome), the protein is cut into small pieces (peptides), so essentially the protein is digested.
"In some instances, this process can help cancer cells grow. The proteasome inhibitors we found block the shredder's 'teeth' (the proteasome activity), stopping the production of small paper pieces (peptides) and preventing cancer growth," Bachmann explained. "Another advantage is that cancer cells are also more sensitive to proteasome inhibitors than normal healthy cells."
Early studies promising
LODO-141 is one of several proteasome inhibitors discovered, with the most potent anticancer activity.
Studies conducted in chemo-resistant cell lines published earlier this year in Leukemia Research showed that LODO-141 is more effective than three marketed proteasome inhibitors in resistant multiple myeloma and mantle cell lymphoma. In addition, preclinical studies conducted by Bachmann and Pirrung in collaboration with the NCI and reported in the Journal of Biological Chemistry produced promising early data. LODO-141 demonstrated antiproliferative activity in multiple human solid tumor cell lines including those connected to renal, colon, melanoma, ovarian, prostate and breast cancer.
Dale Pfost, chairman and CEO of Lodo, added that these novel proteasome inhibitors, derived from natural products, have the potential for improved efficacy and therapeutic index compared to existing proteasome inhibitors. "Early studies conducted at the NCI and elsewhere suggest that LODO-141 may have utility in treating solid tumors," Pfost said in a news release. "We intend to assess its potential as a single agent and also in combination with cancer immunotherapy."
MSU Innovation Center supports early development
The completion of the exclusive license by Lodo Therapeutics of the MSU and UCR co-owned intellectual property exemplifies the collaborative nature of universities, said Anne Di Sante, associate director of MSU Technologies of the MSU Innovation Center.
"We're thrilled to see how the next level of this research will be amplified and the potential therapeutic treatment options which may result," Di Sante added.
MSU Technologies also assisted Bachmann with securing ADVANCE grant funding, a university early stage prototype program administered by MSU Technologies for Michigan universities. Funding by individual schools is matched by the Michigan Economic Development Corporation.
Partnerships within MSU IC extend success
Frank Urban, director of Venture Creation of the MSU Foundation, explained Spartan Innovations (SI) provided early support of Hibiskus through business plan development, corporate strategy and early stage investment funding through Red Cedar Ventures.
Further SI support was provided in collaboration with a grant from the Tech Transfer Talent Network (T3N) which funded postdoctoral fellow Marquicia Pierce within the Bachmann's MSU laboratory for 18 months and an Entrepreneur-In-Residence to assist the company.
SI worked with its partners and especially the staff of MSU Technologies to move the company forward, including the securing of early stage grant funding.
"It is great to see new technologies like the proteasome inhibitors Hibiskus was developing attract the attention of a group with experience in therapeutic development like Lodo Therapeutics, which has the expertise and resources to move novel therapies into clinical trials quickly," Urban said. "These transactions are exciting to see and work to progress the great technologies being developed at MSU."