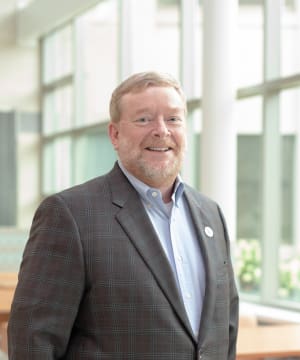 We hope this summer edition of our e-news finds you all safe and healthy. For the past several months our staff has been working remotely, connecting regularly with key business and community partners to develop and advance the projects and programs underway at the Innovation Center. It's been different, but we've found new ways to be productive through technology. The great relationships with our stakeholders have easily overcome the barriers of social distancing.
The Spartan community has truly stepped up to challenges brought on by the coronavirus pandemic. As President Samuel L. Stanley Jr., M.D. declared, "the value of Michigan State University has never been clearer, as we translate our research into new testing technologies, extend the lifetime of key protective equipment and help educate more health care workers and get them to the front lines."
I am very proud to be a part of MSU as we create so many ways to ease the burden of these difficult times. There's no doubt campus will look different this fall as we keep the health, safety and well-being of our students, faculty and staff at the forefront of everything we do. Innovation Center staff will be here, driving to sustain our valued partnerships and creating new ones. We look forward to seeing you beside us as we build social and economic value for Michigan with the tremendous resources of MSU.
Let's stay connected. We hope to return to campus soon. Until then, please be well, and we'll see you on Zoom.
Charles A. Hasemann, Ph.D.
Assistant VP for Innovation and Economic Development