Media Contact Tracy Henion, ander1ta@msu.edu, (517) 899-8130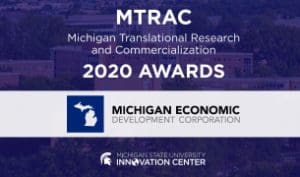 The Michigan Translational Research and Commercialization (MTRAC) AgBio Innovation Hub recently announced its 2020 translational research awards.
With funding and support from the Michigan Economic Development Corporation (MEDC) and Michigan State University, the Hub funds development of technologies that address commercial needs in the agriculture and industrial life science markets as well as the greater non-medical bioeconomy.
The program provides starter level and full translational research grants of up to $25,000 (over 6 months) and $100,000 (over 12 months) to researchers involved in AgBio innovation at public universities, nonprofit research institutes or public hospital systems across the state. The funding allows research teams to conduct initial testing of new technologies on first commercial applications to generate data useful for prototype design, patent applications and other early stage work.
"Michigan's agriculture and bioproducts industries make up a substantial portion of the state's workforce and economy," said AgBio Innovation Hub's Commercialization Program Director Joseph Affholter. "Programs like MTRAC play a crucial role in ensuring ongoing innovation and commercial success of Michigan's AgBio entrepreneurs, businesses and organizations at both the statewide and national levels."
Earlier this spring, MTRAC finalists presented agricultural and industrial life science projects to an oversight committee comprised of entrepreneurs, researchers, industry experts and venture capital professionals — all of whom volunteer their time and expertise to evaluate proposals and mentor research teams.
Spring 2020 Full Grant Awards
PFAS Inactivation: Following successful completion of a Starter grant project in 2019, Dr. John Albrecht and colleagues at the Fraunhofer Institute received a grant to develop an electrochemical process technology to breakdown per- and poly-fluoroalkyl (PFAS) substances in water.

Animal Mobility Monitoring Using Visual AI Systems: Dr. Madonna Benjamin and colleagues (MSU) received funding to implement and evaluate a computer vision-based, biometric assessment system for monitoring livestock body conformations and locomotion patterns to improve animal health, wellness, quality and care.
Microalgae Purification by Fungal Capture: Professor Gregory Bonito and team (MSU) developed a novel, living biofiltration system to enhance the efficiency and lower the cost of isolating microalgae that are sources of high-value oil, protein, nutrition and industrial products.
Electrophoretic PFAS Adsorption: Dr. Qi Hua Fan (MSU) was awarded funding to continue developing a high-efficiency electrophoretic flow cell technology that accelerates movement and capture of PFAS compounds on highly adsorptive surfaces using asymmetric electric fields.
Corn Improvement by Incorporation of Early Flowering ("K-Domain") Trait: Early studies suggest Dr. Guo-qing Song's plant K-Domain gene technology may allow for early flowering, reduced plant height and improved yield in key commercial crops. This MTRAC award allows him to test the technology in a commercially relevant maize germline.
Spring 2020 Starter Grants
Development of Innovative Nano-Reactor Technology for Rapid and Complete Defluorination of PFAS (Dr. Hui Li, MSU).
Plastic-free Thermally Sealable Paper Substrates for Packaging Applications (Dr. Muhammad Rabnawaz, MSU).
Identifying Infectious Bacteria in Animal Wounds Using Electrochemical Detection of Metabolites (Dr. Gregory Swain, MSU).
These and other projects funded by the AgBio Innovation Hub are designed to accelerate development of technologies related to food, fuel and fiber, including bio-derived/bio-based materials, bioenergy, natural resources and animal health.
"Since its inception, MSU's MTRAC Innovation Hub has played a significant role in advancing the commercialization of agriculture and biology projects from some of our state's top researchers," said Denise Graves, university relations director for the MEDC's Entrepreneurship & Innovative initiative.
MTRAC project funding bridges a gap between academic research and the point at which an innovation is ready for commercial development. The MSU-based AgBio MTRAC program accepts grant applications from researchers at Michigan's public universities, nonprofit research centers and hospital systems, provided the proposed work falls within the specified AgBio translational research subject categories.
Recent awardees include teams from MSU, Michigan Technological University, University of Michigan and several other university affiliated research institutes around the state. Since its inception, the AgBio MTRAC program has received 153 proposals and funded 73 projects. Additionally, it secured more than $84 million in funding for those projects and helped launch five startups.
The Hub is part of a network of statewide innovation hubs supported by the MEDC that includes the MTRAC Innovation Hub for Life Sciences at the University of Michigan, the MTRAC Innovation Hub for Advanced Computing Technologies at Wayne State University, the MTRAC Advanced Applied Materials Innovation Hub at Michigan Technological University and the MTRAC Innovation Hub for Advanced Transportation at the University of Michigan. Each hub is strategically located at a university with strengths in the sector, further increasing the quality and quantity of resources.
For more information on the AgBio Innovation Hub, contact Joseph A. Affholter, MTRAC Commercialization Program Director, at jaffholt@msu.edu.