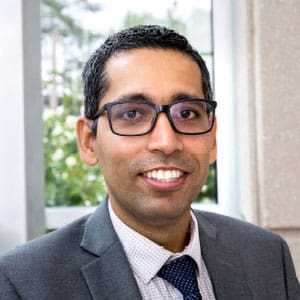 Anupam Jhingran, technology manager for MSU Technologies in the MSU Innovation Center, recently co-authored research based on his postdoctoral work at Memorial Sloan Kettering Cancer Center — the world's oldest and largest private cancer center.
Jhingran's research focused on spores of Aspergillus fumigatus, a fungal pathogen that is present everywhere. The pathogen is a common cause of invasive infections and high mortality rates in those with weakened immune systems. In healthy individuals, however, these inhaled spores are efficiently cleared within 24 hours by neutrophils, a type of white blood cell. Most of the white blood cells that lead the immune system's response are neutrophils. Amongst the most common white blood cells, namely, Monocytes, Lymphocytes, Neutrophils, Basophils and Eosinophils, Neutrophils are the most plentiful type, making up 55 to 70 percent all.
"Aspergillus fumigatus is an opportunistic pathogen that could wreak havoc on patients with weak immune system," Jhingran said. "Mechanistic insights described in this research could help us harness the power of immune cells to improve the outcome in vulnerable patients."
Researchers identified a critical role of plasmacytoid dendritic cells (pDCs) in promoting fungal spore killing by neutrophils. The role of pDCs indicates a future possibility of harnessing their potential for controlling invasive infections in patients undergoing a bone marrow transplant.
To read the full research, visit here.