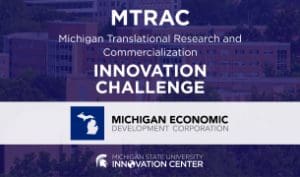 The Michigan Translational Research and Commercialization (MTRAC) Innovation Hub for AgBio at MSU is launching its first-ever innovation challenge program.
The AgBio MTRAC program is a partnership between Michigan State University and Michigan Economic Development Corporation, with funding provided by the Michigan Strategic Fund. The MTRAC AgBio Innovation Challenge invites researchers to find new opportunities to apply their technology innovations to commercial problems and opportunities in the AgBio market. Researchers at public universities, nonprofit research institutes, and public hospitals across the state of Michigan are encouraged to apply.
"The primary goal of the MTRAC AgBio Innovation Challenge is to increase the number and range of Michigan technical innovators focused on identifying and solving important agricultural, industrial biotechnology, and ecosystem level problems," said Joseph Affholter, the MTRAC Commercialization Program Director. "The Challenge seeks to build the pipeline of Michigan-based ideas and innovators that address the technology challenges and opportunities facing Michigan's AgBio businesses."
Competitors must write a product concept paper in which they identify a critical market need in the agriculture, bioprocessing, biomaterials, and/or industrial biotechnology marketplace.
They will then make the argument for why their emerging technology might be suitable for developing a solution,  how the application would be valuable to the AgBio market, who would benefit and how much time and cost would be required. Concept papers will be accepted between Aug. 1- 21.
Participants compete for five awards between $1,000 and $10,000. Funds awarded through the Challenge are for use by the winner(s) through their approved institutional research or professional development accounts.
"The most exciting part of the program is working with great researchers and watching — and sometimes helping them develop skill in identifying and assessing commercial opportunities," Affholter added. "I am most looking forward to these concept papers and projects becoming commercial technologies and startup businesses in the future."
To learn more about the challenge, visit the MTRAC AgBio Innovation Challenge website or email MTRAC@msu.edu.