This October, Leon Ma was appointed to the role of Assistant Director of Corporate Relations. His new position holds responsibility for business intelligence research. With Ma's background in industry analytics, he will be a crucial asset to the growth of the Innovation Center's Corporate Relations team.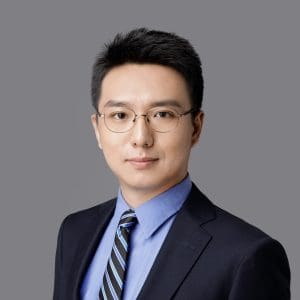 Before joining the Corporate Relations team, Ma worked as an Industry Analyst for a big-data start-up in Beijing. Along with his experience at BigOne Lab, Ma held positions with Gerson Lehrman Group as a Client Solutions Manager and CCID Group as a Research Associate.
Ma holds a master's degree in human resources and industrial relations from the University of Minnesota, Twin Cities, and bachelors degrees in international political economy and history from Peking University.
Supervisor and Associate VP for Innovation & Economic Development, Dr. Charles Hasemann, spoke of Ma's strengths: "Leon brings eight years of experience in both business intelligence research and company/client-facing relationship management. He did this work as an employee both in the context of a major corporate consulting firm, as well as for a nimble start-up company. We think this background will serve Leon well with the diversity of corporate partners we serve in the Innovation center.".
Ma's goals while joining the Innovation Center team are to highlight Michigan State's faculty research to larger corporations. Through his past experience, Ma wants to add a different point of view to the MSU Innovation Center.
By joining MSU's team, Ma is looking forward to representing cutting-edge technology developed at MSU to the corporate market. Ma wants to showcase the "Spartans WILL" and share the passionate ideas MSU's faculty are producing on campus.
Ma is excited to learn what MSU faculty has to offer when working with new innovative technologies. In addition, he wants to build a stronger corporate relationship between MSU faculty and corporate partners.
When supervisor Dr. Charles Hasemann was asked what ways the Innovation Center will be working with Leon in the future, Dr. Hasemann replied, "Leon will be working with both our Business Connect team and our MSU Technologies team; helping us identify research partners, and potential licensees for MSU innovations, respectively. Leon will be a key new addition to our research and marketing efforts."
While starting this new position, Ma's ambition to work with faculty and improve corporate relationships will allow for the growth of the Innovation Center. Ma is always open to hearing new faculty ideas and is excited about what the future holds with his new position.