MSU emerges as technology leader at Great Lakes Bioenergy Research Center
It is no secret that our use of fossil fuels is damaging the planet. As scientists continue to search for alternative sources of energy to decrease our reliance on petroleum and petroleum-based products, Michigan State University (MSU) is leading the way in the development of biofuels and bioproducts through its ongoing research at the Great Lakes Bioenergy Research Center (GLBRC).
GLBRC, based at the University of Wisconsin–Madison, is one of four bioenergy research centers (BRC) funded by the U.S. Department of Energy and one of only two at universities. Now in its 17th year, GLBRC focuses on creating biofuels and bioproducts that are economically viable and environmentally sustainable.
With over 20 MSU faculty members conducting Agricultural Biotechnology (AgBio) research for GLBRC, MSU is the center's most significant collaborator in using sustainable cropping systems to enable a new generation of biorefineries and bioproducts.
Petroleum-based products like plastic, polyester, and petroleum gas are used in every part of our daily lives. But, biofuels have the potential to play a vital role in replacing fossil fuels to meet some of our energy needs. At the same time, bioproducts can replace petroleum-based products used by industries like pharmaceuticals, construction, automotive, cosmetics, and many more.
"It's true that most people don't think much about biofuels or realize how many things are made out of plastics or petroleum-based products," said Julia Miller, AgBio Technology Manager with MSU Technologies, the technology transfer office of MSU. "But industry is very cognizant of the fact that conventional fuels are limited, and given the growing awareness of climate change, the public, too, is beginning to pay more attention to the need for alternative sources of energy that don't add to the amount of greenhouse gases that are building in the atmosphere.
"That's why MSU's collaboration with GLBRC is so important," she emphasized, "because MSU focuses on how to support sustainable agriculture, and these crops grown using sustainable practices can be turned into different biofuels and bioproducts that are systematically integrated in ways that are good for the environment and our communities."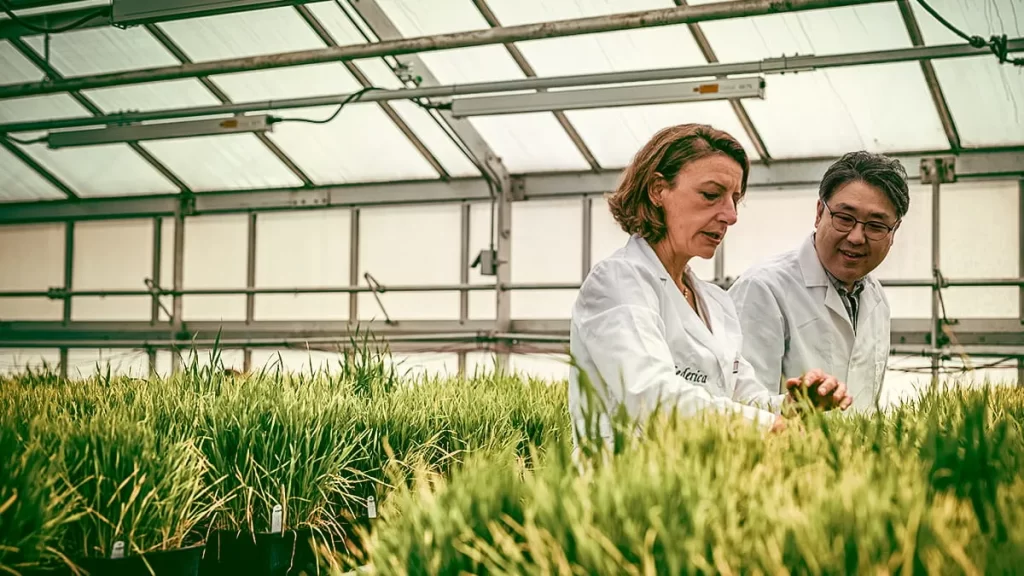 How MSU contributes to GLBRC's mission
According to GLBRC research coordinator Sarynna Lopez Meza, Ph.D., the main goal is to develop biofuels and bioproducts made from dedicated energy crops grown on marginal lands in order to bypass the "food vs. fuel" debate. In other words, scientists want to avoid the possibility of diverting productive farmland or crops for biofuel production to the detriment of the food supply.
"We focus on developing biofuels and products from the nonedible parts of plants," she said. "We've learned that it's more sustainable to grow these crops on lands that are not used for food crops, lands that maybe were overused for a while, that are coming out of a conservation program, or maybe lands where you cannot easily get tractors or other infrastructure, or even lands within a big agricultural area that are not as productive based on soil or shade or some other factor. You can see marginal lands all over the country where you could grow these dedicated energy crops that could be used for biofuels and bioproducts."
In addition to the exceptional work performed by faculty members specializing in biological sciences, plant sciences, ecology, and agriculture, MSU has the distinct advantage of owning one of North America's premier inland field stations. Located in Hickory Corners, MI, between Kalamazoo and Battle Creek, the W.K. Kellogg Biological Station (KBS) is MSU's largest off-campus education complex where experimental fieldwork for GLBRC occurs.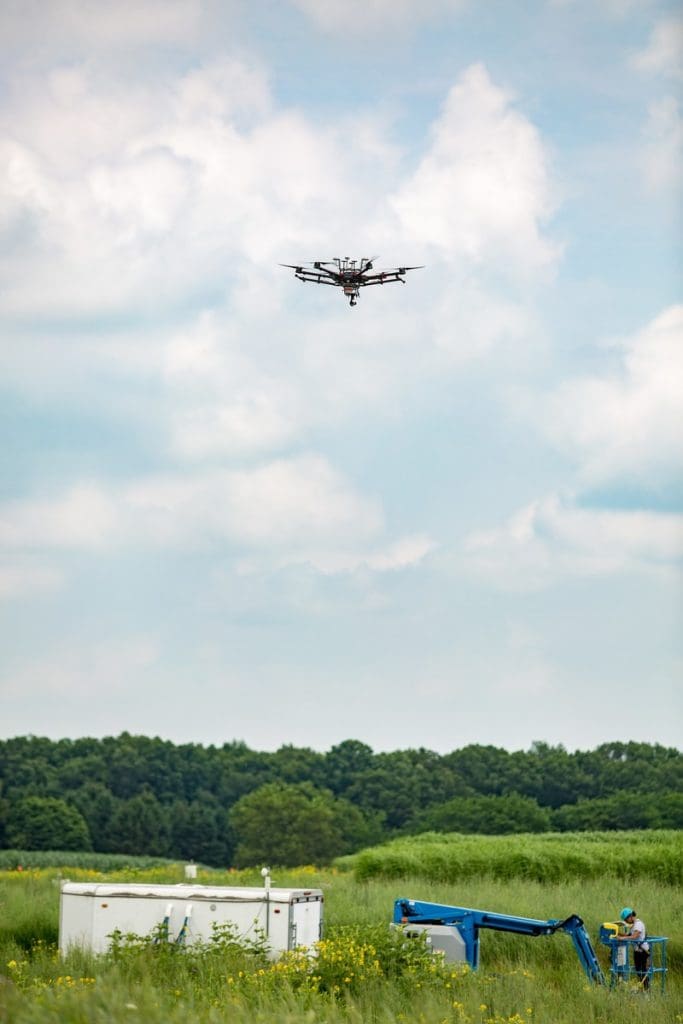 "We have a giant area where we can grow a variety of plants and complete experiments on large tracts of land that can give us a lot of information," said Lopez Meza. "Not just information about agricultural practices, but important data about the impact energy crops have on the water and the biodiversity – insects and butterflies, etc. – that provide services to our ecosystem. The Kellogg Bio Station has given GLBRC and MSU a big lead because we were the only ones that have had a huge sustainability component. We're basically ten years ahead of the GLBRC's other partners on that."
MSU research teams focus on plant design and improvement in the lab, then examine and monitor the performance of these dedicated energy crops in the field over the long term.
"We did a lot of work with corn in the first ten years, but it's a food crop," Lopez Meza explained. "Now we focus completely on nonedible crops like grasses, poplar, and sorghum, an annual crop which doesn't require much effort, and so hopefully that makes it easier for farmers to accept. So, doing that research that connects the university science world to the real world of farmers – that is one of the strengths the GLBRC has, thanks to Michigan State."
At KBS, researchers can test many of these potential crops at larger scales. Positive results can help persuade farmers to invest their time and resources to grow them in dedicated areas in their fields.
Yet, Lopez Meza says convincing farmers to grow dedicated energy crops on marginal lands remains challenging.
"We want this research to be relevant and applicable to farmers," Lopez Meza said. "Because, after all, those are the people who are going to be growing these crops. We may develop the best crops for biofuels, but if there's no buy-in from farmers, it's a useless exercise."
Making AgBio technologies available for license at MSU
In its ongoing efforts to develop sustainable cropping systems for GLBRC to produce biofuels and bioproducts, MSU has produced 108 patent applications, 15 license and option agreements, and one start-up company since 2007.
Here is just a sampling of some innovations MSU researchers have discovered:
A new method to significantly increase oil content in plant seeds. Vegetable oils are used for nutrition, biofuel, industrial applications, cosmetics, and pharmaceuticals.
Genetic components that can make switchgrass drought-resistant. Switchgrass is a native grass that can potentially be a significant bioenergy crop suitable for droughty, non-food crop soils.
How specific microbial isolates can increase the growth of switchgrass. The isolates can be used to develop biostimulants and biofertilizers to assist in the growth of crop plants.
A strategy to break down lignin, which is difficult to extract and refine into a useful state for industrial purposes. Lignin can be processed into valuable chemicals and other bioproducts.
A new way to increase the content of desired sugars in crops engineered for producing biofuels.
Development of computer software technology for high-throughput screening and processing of mass spectral data. Mass spectrometry is an analytical tool that can answer many questions, such as identifying unknown compounds, quantifying known compounds, or determining the structure and chemical properties of molecules.
Plant design clearly holds the promise of tremendous potential. MSU researchers modify dedicated energy crops to grow them specifically for biofuel and bioproduct purposes.
"When an MSU researcher comes up with a new technology that was developed with federal funding, MSU usually owns the technology and is under certain obligations to support and commercialize the technology," said Miller, who works on reviewing and licensing MSU technologies to companies. "So, they come to MSU Technologies to continue to develop the technology and find the best way to commercialize it as a product or service for the good of the public – either by finding the optimal corporate partner or by possibly launching a start-up company."
Corporate partners sit on the GLBRC's oversight board. Technologies that are developed at the GLBRC by MSU researchers are disclosed to MSU Technologies. Those technologies are further translated and licensed to companies who can develop the technology into products and services. The MSU Innovation Center, which includes Business Connect and MSU Technologies, also helps make industry connections in translational research.
"We want to take the knowledge, technologies, and expertise of our GLBRC faculty and get it in the hands of industry where they can put this MSU research into action," said Jeff Myers, director of Corporate Relations at Business Connect. "So, we have a role on the front end in early efforts to connect our faculty with industry, but just as important is our role after that in handling all the details with research agreements and related administrative business support necessary to make research collaborations happen."
Some of the technologies discussed in this article are available for licensing, and there are additional innovations in the plant sciences, sustainable agriculture, and biofuels/bioproducts space available for licensing. Please contact Julia Miller at mill2034@msu.edu for more information. If you want to learn more about partnering with MSU researchers, please contact Jeff Myers at jkmyers@msu.edu.