Brendan Grant is a student intern for the MSU Innovation Center. He works with the communications team and is currently working on a new social media campaign to help revamp the Innovation Center social accounts.
"As a communications intern I have mainly focused on developing a new social media strategy to drive corporate engagement," Grant said. "This has consisted of conducting competitive research on how to increase user engagement with our social media profiles and presenting new ideas to implement on our social platforms."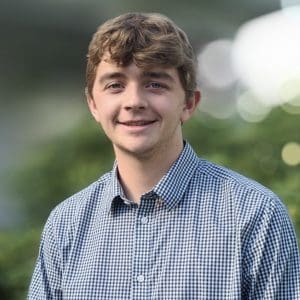 In addition to social media campaigns, Brendan also focuses on uploading content to the Innovation Center website, editing Innovation Center content and analyzing user download rates.
Working at the Innovation Center has given Grant a glimpse into what his fellow students are up to. He has discovered a new definition of what it means to be an MSU Spartan."Learning about the innovations from MSU researchers firsthand has given me a renewed sense of pride to be a Spartan," Grant said. "Their work is extremely inspiring, and I feel honored to have the privilege to help communicate their efforts."
Brendan is currently a junior pursuing a degree in economics with a dual minor in quantitative data analytics and public policy. Before joining the team, Brendan worked with General Motors as a Technology Commercialization Intern.